Australian singer George Maple has just released her music video to her latest single 'Lover' featuring model Jordan Barrett. So we caught up with the Aussie singer and got her chatting about her life, music, and the inspiration behind the song.

Watch the video to her latest single below:
--------------------------
How did you get started? Did you always know the type of music you wanted to create?
I have always been a songwriter and artistically driven. I went through some personal challenges with relationships and losing loved ones when I was first out of school that set my confidence back. So It took me a while to figure out what I wanted to do as a solo artist. My first released record was 'Foreign Language' with Flight Facilities. We released the song and became friends. That was my first taste of the real music industry.
We toured for a year and I would wake up every day and write a new piece of music on my laptop. I was writing behind the scenes for other people and developing new creative relationships. I discovered Jamie XX and Jai Paul and became obsessed with the sonic world of production. It was like a new way of expressing myself creativity, using sounds as opposed to traditional songwriting. Eventually, I decided I wanted to develop a project, an outlet for my original work and so George Maple was born.
Both you and your music have changed quite a bit over the years, can you share more about that evolution with our readers? What prompted that change in you?
100%! I feel very good about where everything is at. I feel creatively very free and confident in what I'm doing. I don't know if i've ever struggled with authenticity, more that it's a different time in my life now. I feel proud of the hard work i've put in and the fact I've been self-reliant and I'm able to make my own decisions creatively and from a business perspective.
My art is a reaction to the world around me, the people, the places, the heartbreak -- and the various energies all tend to contribute to the tone of the music. When I began this project, my name George Maple was a disguise, something I could hide behind. I wasn't ready to share my deepest and darkest with the world. Over the last few years, I've entered new phases, finding my sexuality, my place as a woman, as an artist, dealing with life changing situations, death, falling in and out of love, battling my own demons, failing and succeeding, all the elements that contribute to new layers of human. It's just growing up, I guess.
--------------------------
Let's talk about your Summer Tour for a bit. What was that like? Since you've undergone a metamorphosis over the years, did your recent tour feel any different?
Those shows were the best shows of my life. Every show is getting better and better. I am dancing a lot more, which is a throwback to me as a 15 year old. I just started personal training and singing at the same time as I was noticing myself becoming fatigued on stage. It's very fun. It's interesting though, it's almost just peeling back the layers of my true self. I'm excited to continue to take the show to another level each time. I have grand plans.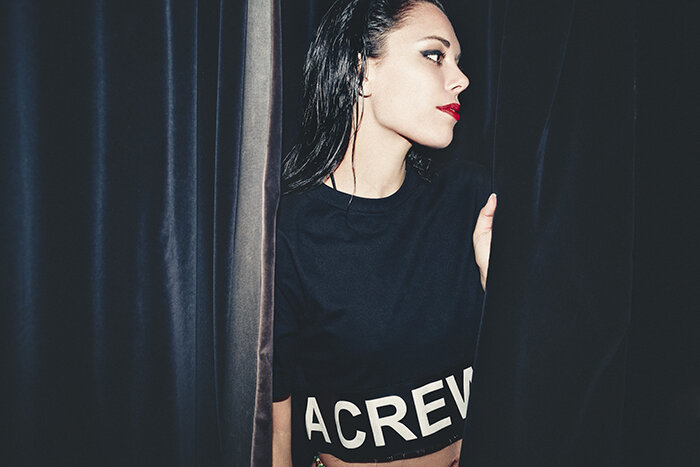 You've also made a move from Australia to LA, how's that been so far? Any difference between the two places that sticks out for you – whether it's musically or just the overall vibe?
I've been moving around since I was 15 so I'm used to it; but I really love LA. It's the first place that I've felt I'd like to stay put and move my belongings to. The energy is so positive there at the moment. There's very minimal ego in the circles I travel in and I've met a really inspiring group of artists, musicians, actors, directors, stylists who create a great nucleus for me to create. It's also a good mid-way between Australia, UK, Asia, and London where I have to travel a lot at the moment.
Making a mark in the music industry is tough but it has also seen an awakening as more female artists gain more visibility, respect, and are inspired to push the boundaries of their craft, and making bold statements in support of female empowerment. So how do you define yourself from everyone else?
I'm not very good at these questions. My mantra is that everyone is equal regardless of their physicality. I just hope that one day the conversation develops from 'female empowerment' to equality being the norm. Support one another, create communities, be kind to each other. I'm an idealist who has experienced a lot of very real life situations in the last few years and I've learned that the more we can enforce acceptance and kindness, the better off the world is.
--------------------------
Your new single 'Lover' has just been released – congrats! Give us a peek into the creation of both the song and the music video?
Thank you! I'm so glad that it's out, i'm really proud of it. I wrote that song a long time but only finished the production a few months ago. Most of my songs are an amalgamation of events rather than just one single experience, this one is a feeling I know all too well. I always manage to get myself into complicated love situations, whether it's the wrong person, unrequited love, forbidden love, love with consequences.
I've watched many people around me fall into the same trap. I guess it's a part of being human. I like to find the beauty in the undertones of these kind of human behaviour. It's basically a beautiful disaster. I sometimes feel I'm a vessel for these kinds of experiences because the situations seem to gravitate towards me. Perhaps I'm a vessel for complex love and my job is to write about it... Maybe I'll settle down one day, I don't know. The music video actually took the concept to a new level.
Jordan plays the protagonist so well. He plays the character being driven to the edge of insanity, lashing out and eventually walking away from the one he loves to preserve his sense of self. It's based on a real life person I know although I will leave their identity to the imagination.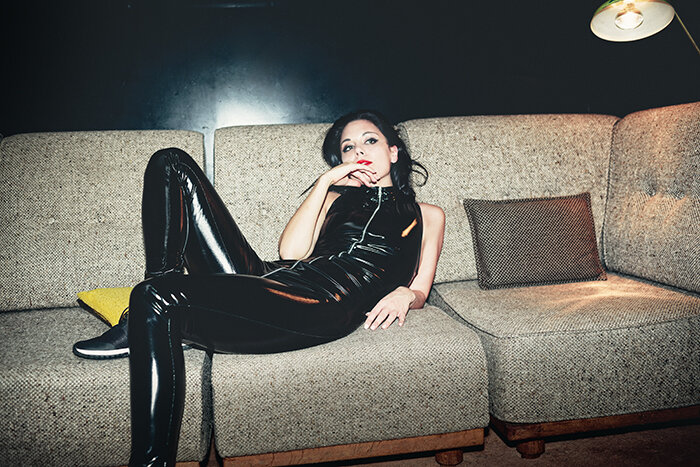 What was it like working with Jordan Barrett for the music video? Any fun stories to share?
He's a doll. we didn't know each other before the shoot, but we've become good friends since. He has a kind soul and wow he looks good on camera! It was a pretty intense two days of shooting. He had to learn to pretend fight and we were filming in rain and strobes. One of the shots, he accidentally connected with his co-star and punched him in the jaw. That shot made the cut because obviously it looked so real.
Finally, because we're a fashion and beauty site, we want to know. What's your go-to look and how would you describe your style?
Slick hair, dark eye, and sometimes a dark lip. I like to look structured and dramatic. There's a little bit of cleopatra in me. My style is mood based and usually based around where my brain is at creatively. Kind of random, but I like it.
What are the 5 beauty products you cannot live without?
ASAP micro-exfoliant, Skinstitute Skin Oil, Coconut body oil, SK-II masks, and Kiehl's lip balm
--------------------------