We all love a little splurge here and there. And why not? We've worked hard and it's good to treat ourselves from time to time. Although money can't buy happiness, it can buy a lot of fashion and beauty goodies that can put us in a festive mood. But of course, we should also spend wisely. Read on to know which items we think are worth our hard-earned cash.


Kersie
Creative Director




"I've always adored minimalist design when it comes to time pieces. And Swatch's new additions to their SKIN collection are no exception. The timeless and elegant look of the watches perfectly matches my chic outfits. I'd pick the SKINOTTE (black) or SKINMOCA (gold) for everyday office wear and the romantic SKINCHIC (rose gold) for date nights."


Becks
Editor






"The THREE Whisper Gloss, with its tube packaging and glossy texture, looks more like a lip gloss than an eye colour at a glance. But that's the beauty of it. Its wand applicator allows quick, fuss-free strokes on the eyelids. The liquid texture then transforms to powder form as I blend the colour using my finger. The result is a shimmery finish for natural-looking radiance on the eyes."
Jordianne
Sub-Editor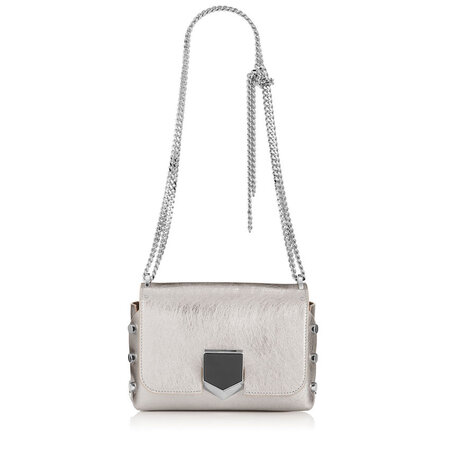 "I'm a fashion minimalist. I like clean lines, neutral colours, and subdued elements. But sometimes, there are just things outside your comfort zone that magnetise you. The Jimmy Choo Lockett Petite bag is one of those things for me lately. It still has the minimalist style that I love, but it also comes in a show-stopping metallic hue that is so mesmerising."


Amanda
Features Writer and Campaign Executive



"As much as I like minimalism for most of my things, this quirky cosmetic bag from LeSportsac caught my eye. The handcrafted techniques used in this piece such as felting, sewing, knitting, and wrapping exudes craftsmanship that takes me in awe and it gives that 'play and be at ease' vibe that's perfect for when I'm travelling and would just want a piece of fun."

Therese
Features Writer and Community Specialist



"It's no secret that I adore sling bags. And when it comes to bag aesthetics in general, I prefer sleek and sophisticated designs. That's why this Kate Spade New York Cameron Street Dilon in Rosso immediately caught my fancy. Hopefully, I can get my hands on these!"


Dhivya
Campaign Executive






"I'm all about that 5-minute makeup routine for days when the struggle is real. We recently received the Le Stylo Smoky eyeshadow stick in Delicat Wood from L'Oréal and it has elevated my ordinary no-makeup makeup look to a TGIF, dance the night away look. These sticks are really helpful for Fridays when you're too lazy to go full face and just want to sparkle."

Explore our last month's covets. See them here.