If there's one day you should be exuding an ethereal glow, it's definitely your wedding day. But with all the jitters and preparation, the coveted radiance may prove to be elusive. A month before the big day, though, with the right routine and the
Swisse Ultiboost Golden Collagen Blood Orange Liquid
, you'll find that it's actually achievable. To try if this formula for skin radiance works, we asked bride-to-be Eexuan Ng to incorporate the drink into her wedding beauty preparations. Read about her experience below.
Skin-caring benefits
Due to the nature of Eexuan's job, she travels frequently. Although she loves it, the changes in climate can take a toll on her skin, which is not ideal if you're preparing your skin for the big day. So she takes extra care with a routine that involves masking every so often and a daily dose of a collagen beauty supplement.
The Swisse Ultiboost Golden Collagen Blood Orange Liquid is formulated with a unique blend of natural ingredients and essential nutrients that reduce the appearance of wrinkles and improve skin elasticity within four weeks.
Made with 5,100mg of clinically proven, low molecular weight hydrolysed collagen that gets easily absorbed by the body, you're sure to not only get — but also immediately feel — its efficacy. "I've tried other collagen drinks before but this one definitely makes you feel a difference," Eexuan shares.
Aside from its collagen content, the Swisse Ultiboost Golden Collagen Blood Orange Liquid also contains Sicilian blood oranges, which are not like regular ones. Harvested all the way from the picturesque Sicily in Italy where the topography is composed of coastal breezes, volcanic soil and warm climate, Sicilian blood oranges are known to be especially antioxidant-rich. They're also rich in anthocyanins that protect the skin from damage and slows down ageing.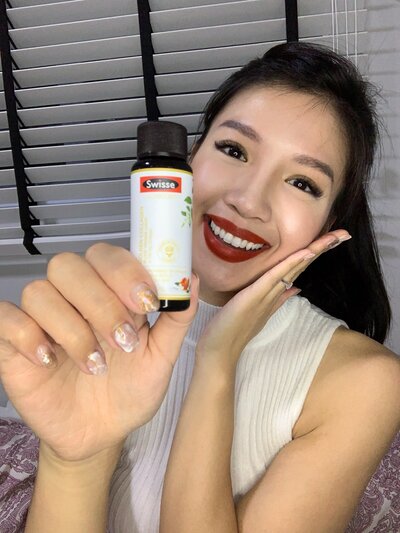 Portability and effectivity
The fun part? It's so easy to incorporate into your routine. "The bottle is really light, too, especially when compared to other collagen drinks," Eexuan says. "Glass bottles feel really heavy and also fragile. As someone who's clumsy, I drop my stuff quite often. But with Swisse's bottle, I don't have to worry."
After trying it out for four weeks, and with her wedding day still on the horizon, Eexuan says she's definitely going to continue taking the product because of it's made her skin "plump and glowing." Satisfied with how glowing her skin looks, she recommends it to other brides-to-be, too — or anyone who has a special occasion coming.
Learn more about Swisse Ultiboost Golden Collagen Blood Orange Liquid here.