We're already at that age where our family, friends and even acquaintances are getting married. While this puts us in a celebratory mood, we can't help but fret over the lack of outfits that we can wear for these numerous weddings that we have to attend. Thankfully, with a few adjustments, we can alter the appearance of a single dress to make it look like you're wearing a new one. Below are some ideas on how you can make the most out of one dress.
Style 1: Turn It Into A Cocktail Dress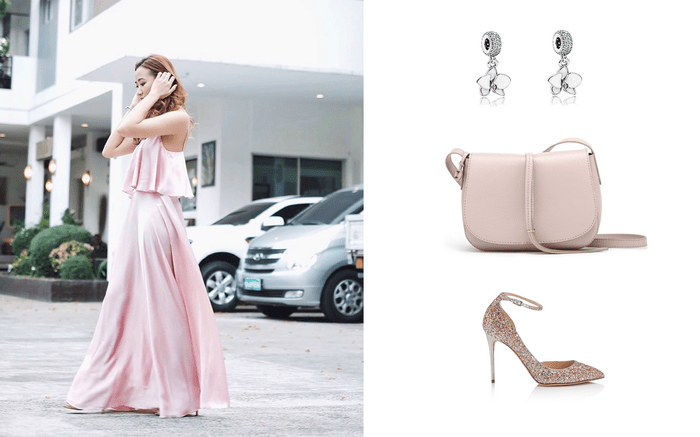 (Photo from: Left — RochelleAbella, Right — Pandora white orchid dangle in sterling silver, SGD89; Repetto Rabat in Atlas Bulle, SGD990; Jimmy Choo Dakota Fanning Collection Lucy Pump, SGD533.60)
As a hypothetical example, we'll be working with the dress seen in the photo above. Let's have an open mind and imagine that instead of a spaghetti strap, the top of the dress is a tube type. The romantic vibe of the dress makes it perfect for any formal celebration, especially a wedding. For the first look, we'll be tailoring the dress to make it a cocktail dress by hiking up the skirt. You can do this by rolling the waistband or securing the hemline with large safety pins. To polish the look, we'll only need to add a few elements to it like a pair of dreamy dangling earrings to finish the overall look.
Style 2: Reverse The Neckline By Wrapping A Scarf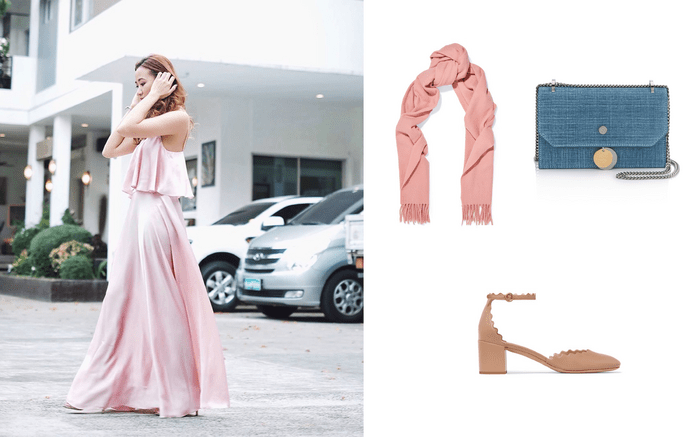 (Photo from: Left — RochelleAbella, Right — Acne Studios Canada narrow fringed wool scarf, SGD207.25; Jimmy Choo Dakota Fanning Collection Finley mini bag, SGD406.79; Chloé Lauren scalloped leather pumps, SGD953.44)

Some weddings, like church weddings, have a stricter dress code. To be safe, you can use an oversized scarf or a shawl to add a more conservative touch to your attire. This is also a good way to give your dress a new look. You can pick a scarf with a contrasting colour (which, in the case of our dress example, is dark green or deep blue) or a complementary colour like blush, teal or baby blue. You can experiment with different ways to wrap your scarf to alter the neckline of the current dress. For example, you can have it in a off-shoulder or in a asymmetrical style.
Style 3: Make A Dress More Casual By Adding Accessories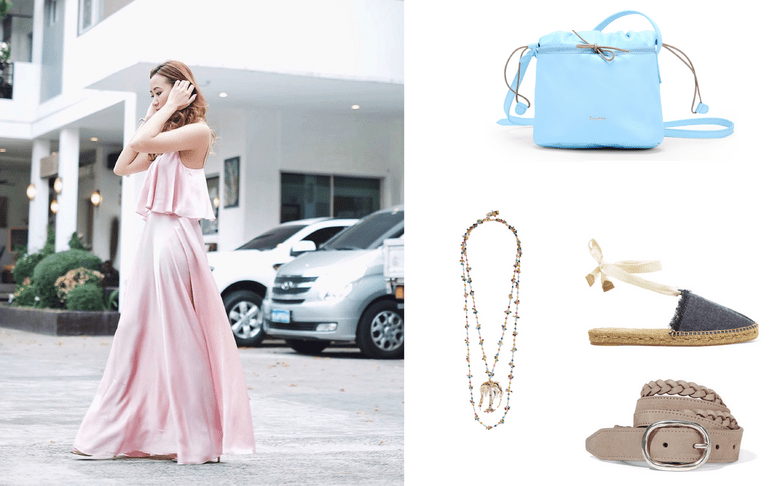 (Photo from: Left — RochelleAbella, Right — Repetto Bag in Ciel, SGD690; Rosantica Rosarietto Amore gold-tone beaded necklace, SGD301.23; Castañer Kayla denim espadrilles, SGD60.80; RAG & BONE Braided nubuck belt, SGD269.45)
Add a few accessories to transform the formal dress into a more casual one that's appropriate for the relaxed vibe of a beach or an outdoor wedding. For example, it will be interesting to wear a of layer necklaces with the colour palette similar to the wedding's theme. Another trick is belting the dress to tone down its formality by giving it a slightly different silhouette. Complete the look with a very cute sun hat!
(Cover photo from: RochelleAbella)
Planning your own wedding soon and don't where to start? Take this quiz and find out what your wedding style is.