Planning a wedding is already a huge endeavour, but doing that in the middle of a pandemic makes it all the more complicated. Some sacrifices have to be made, from slashing your guest list to a fifth of what was originally planned to giving up that dream of having a huge traditional fairytale-like celebration. Still, to these brides and their grooms, it was all worth it. After all, what matters most is being able to solidify their commitment to one another. If you're also thinking about pushing through with your wedding plans come what may, here are some wedding planning tips from brides who got married during the pandemic.
Accept that your guest list will be short
"If you really want to push through with the wedding during the pandemic, expect a smaller celebration," Allysiu Alvarez-Enriquez said. She and her now-husband had planned a traditional big wedding and felt disheartened about having to cut their guest list, but they eventually found that having a shorter one consisting of only immediate family, principal sponsors and a few close friends didn't make their wedding any less beautiful. "The ceremony was so solemn and meaningful. We did not have any pressure, we just focused on each other," she said.
Christy Ho, another bride who got married during the pandemic, shared that they had to do a sit-down to discuss who's coming to the wedding. "We're lucky to have very understanding relatives and friends who did not 'make it to the list,'" she said.
Aside from closeness of relationship to each other, some brides like Rose Bernardo also took into consideration who the people they already have contact with most of the time are to minimise risk. "Most of our guests were close family members, friends, and officemates who are near to us and we see most of the time," she said. There's really no way to circumvent the limitations for the number of attendees so the sooner you accept this reality, the easier the planning will be.
Choose a spacious venue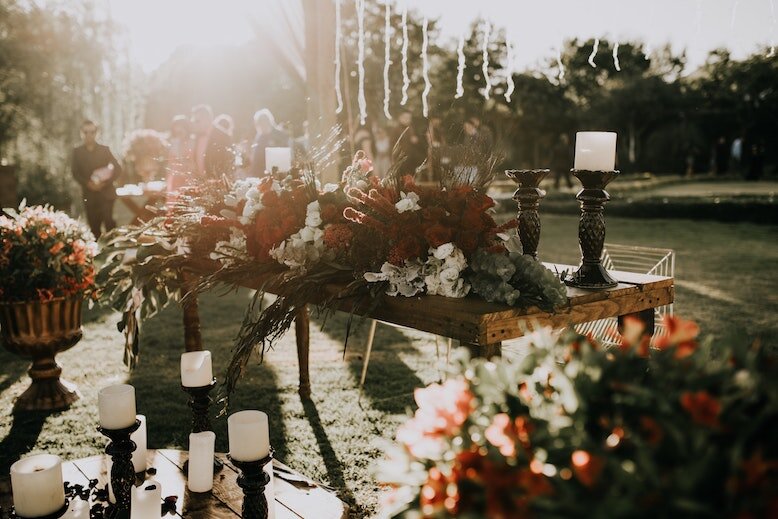 Even though it's an intimate setting, it doesn't mean that a small venue is preferred for holding weddings during the pandemic. This is because your guests will need a lot of room to move around while also maintaining social distancing. For this reason, "pandemic brides" like Rose chose to rent a picturesque open space. "We chose a venue (The Park-Silang) where social distancing can be observed. It is a resort hotel surrounded by green fields and natural landscapes, so it is really refreshing," Rose said.
Finding a venue near where she and her then-fiance lives was also important for Allysiu. This is to make sure they wouldn't be stuck in case an impromptu travel restriction would be imposed. "That's when we started to research venues in Antipolo (a city in the Philippines near the capital)," she said. "Eventually, we saw The Emerald Events Place. It was the perfect venue for us. The ceremony was in an open garden and the main hall was very spacious so social distancing was strictly followed."
But spacious indoor venues are also a good choice as long as there is still enough room for people to social distance. Karmen, who had to postpone their wedding for a few months while Malaysia was in lockdown, went with their original plan and held their wedding at Copper Mansion - Petaling Jaya. "We love this place because it's beautiful, and we could have both our wedding procession as well as the reception," she said.
Buffet vs. plated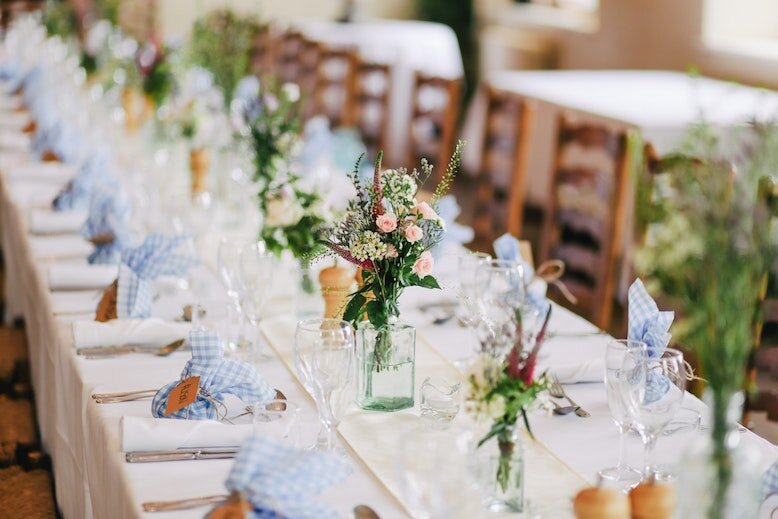 There are pros and cons to both buffet and plated dining options. Rose and her husband went for a buffet as recommended by the caterer because a plated service would require more wait staff, which means more people in the event place. However, a plated dining option would give the guest the chance to just sit comfortably and not have to worry about waiting in line with others for food so this is what Allysiu and her husband had at their wedding. "We chose a plated set-up because we felt like the guests will feel more at ease if they do not need to stand up anymore. Of course, all safety protocols were strictly followed by our caterer," she said.
It's interesting to note that Rose and Allysiu both had the same catering service (K By Cunanan) for their wedding which means both buffet and plated dining is achievable to do during the pandemic. So it's your choice!
Program considerations
All that money you've saved from having an intimate setting? You can consider investing some of it in a good-quality livestream that will broadcast the special moments of your special day to friends and family who are not able to celebrate with you physically. "It was the best decision to hire a livestream because until now, we can still watch and relive our most special day," Allysiu said.
However, you also have to expect that the livestream may be short because some traditions need to be cut out from the program to keep the wedding socially distanced. "We've excluded the traditional practices and games like throwing of bouquet and garter, and also our dances — like the first dance, bride and father dance, father and groom dance — are shortened only up to the first chorus of the song," Rose said.
Instead, what you can do is have digital games that everyone can partake in. "Our host, Atom Ungson, made sure that our virtual guests will feel like they were really part of the wedding. They had a trivia game virtually and a lot of guests actually joined and even became competitive," Allysiu said.

Don't rush and enjoy the challenge
For Christy, getting married during the pandemic helped her identify what's really essential. "Working within the limitations was a fun challenge in itself; it really puts things into perspective. A lot of traditional big wedding stuff wasn't needed and we got to save the money," she said. "It's less of a show for others and more about signing the marriage certificate in front of our nearest and dearest," she said.
To Karmen, communication and trust while planning together is key. She shared that there have been so many changes and she and her husband have to be quick on their feet a lot of times. "Know that every aspect of your planning will be challenged as the pandemic unfolds each and every day. Learn to trust your partner, and make decisions together. Share the burden, and allow others (close family and friends) to also speak and give insights into certain matters," she said.
And because of all the logistical hurdles brought about by the unpredictable nature of holding an event during a pandemic, it's important to be resilient. "Always go for anything that will make you happy but make sure to be flexible and patient. Enjoy every moment of planning; it will all be worth it," advised Rose.
Finally, Allysiu reminds engaged couples that getting married should always be done wholeheartedly and should not be motivated by external pressure to just get it over with. "To all the future brides and grooms, follow your heart," she said. "If you feel like you can still wait, you have all the time in the world. It should be your decision as a couple, not anyone else's."
It can be upsetting to give up a big dream wedding, but dealing with current restrictions is also a good opportunity to evaluate what a wedding really is. Strip away the larger-than-life glitzy setting and you'd still find the essence of it — a celebration of love and commitment. Once this pandemic is over, the option to hold a party will always be there.
(Cover photo from: Kelly Sikkema via Unsplash)
Next, find out how couples from different cultures make it work.