Every fashionista knows that New York Fashion Week is the most-awaited fashion event every season. It's where both seasoned and budding designers introduce their collections, where fashion and beauty trends are spotted, and most importantly, it's where street style thrives. But aside from all the glitz and glamour we see on the runway, what is it really like?
Our very own Clozette Ambassador, Crystal Phuong, tells us the real deal behind NYFW based on her experience at the recently concluded NYFW Spring/Summer 2016--right from the trends she saw, to what she wore, and her exclusive interview with designer Zac Posen himself!
--------------------------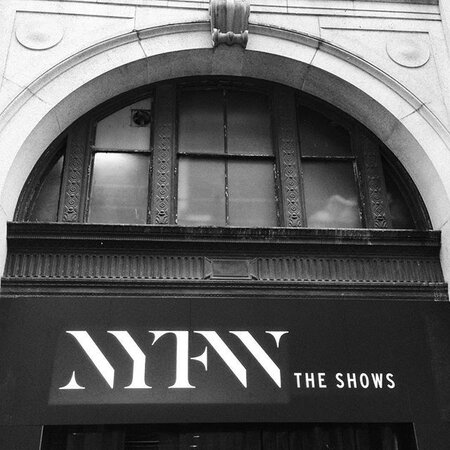 How was your NYFW experience?
NYFW is always an amazing experience. Three years ago, it was my dream to be able to attend NYFW. Last year, I was invited as a media and I couldn't believe it was true! I was shocked, overwhelmed, scared, and proud all at the same time. This year, it was less shocking, but still very overwhelming and exciting. Each year inspires and motivates me to work harder and to strive to be better.
Out of all shows you've seen, which were your favourites and why?
I liked most of the shows that I attended. But my favourite shows were Stella Nolasco, Dennis Basso, Lie Sang Bong, Reem Acra. I had a chance to go backstage, to touch and feel the dresses, and of course to chat with the designers about their collection. It was a wonderful experience.
What were the trends you spotted during the show and which ones do you think would make it big in Spring/Summer 2016?
There were so many things to see this season: tie-dye patterns, fringe hems, ruffles, pastel colours, chiffon and lace details. I think fringe hems and tie-dye patterns would probably make it big this SS16, but we shall see.
Were there any beauty trends you liked as well?
This season, it's all about natural and subtle beauty. It focused more on bright eyes, well-hydrated and radiant skin with a bright coloured lipstick. I always love that less-is-more trend. It's timeless.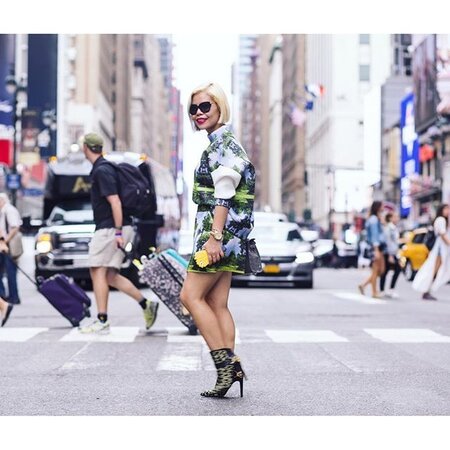 NYFW is such an intimidating activity in the fashion world, how did you decide on which outfits to wear for the shows you attended?
NYFW is truly intimidating, especially for newcomers like me. I planned my outfits 2 months in advance actually, like the outfit I wore on day 5 and day 6, I actually had the outfit hung in my closet for 2 months. One of them was sponsored by a designer Michelle Worth from Indonesia. The other ones that I wore on day 3 and day 4 were sponsored by the local fashion brand Society A. I picked the outfits based on the activity that I would do on that day. Sometimes, it all changed at the last minute when I had new outfits to fill in.
Can you share to us a few NYFW tips?
Always bring phone charger, lipstick, and a pair of comfortable flats if you can or lots of bandages. It sounds silly, but they will save your life. Walking in heels all day every day was no joke. My feet hurt so bad from standing while waiting to enter the show and walking from one place to another. On the last two days, I didn't care much. I changed from heels to flats once I left the show and put the heels back on when I arrived at the next destination. It's insane. I know, but that's how I survived. Other than that, just be confident and enjoy the moment.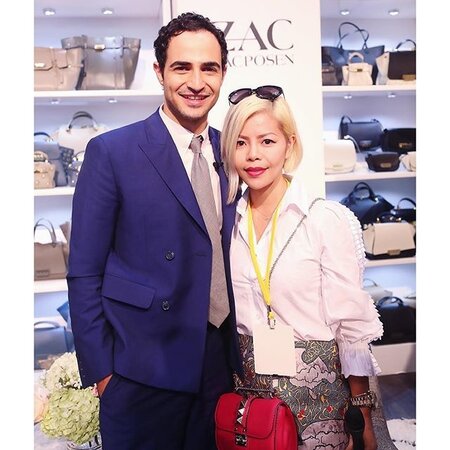 How was your interview experience with Zac Posen?
It was a dream come true for me. I screamed when I received an email from the PR Agency asking me to interview him. I thought they made a mistake, but they didn't. I was nervous and excited at the same time. It's Zac Posen, you know? But when I was there, I quickly got over my worries and just focused on how to make a good interview. It turned out to be great. Zac Posen was so friendly, calm, sweet, and passionate. He could spend hours talking about his passion, his business, his motivation. It's very inspiring listening to him.
Which of his designs are you a fan of?
I'm a huge fan of all his evening gowns and cocktail dresses. In this latest collection ZAC Zac Posen SS16, I'm obsessed with the black and white printed silk pantsuit. It's so chic and classic.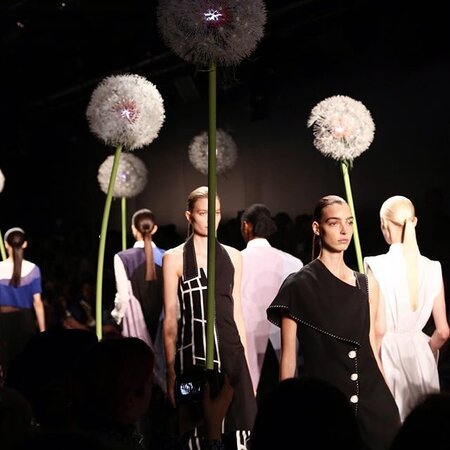 We all know that the street style photo op phenomenon is as big as the show itself. Were you able to spot a few stunning looks from them as well?
Street style plays a huge part in fashion week nowadays. There were many great looks I spotted on the street. There is one look that still stays in my memory until now. I saw a man, who is about 50+ years old, wearing leather pants, black netted top, spiked choker necklace and a long mohawk hair. He caught many street style photographers' attention. I thought that was really cool.
Which designers are you looking forward to watching for the next NYFW?
Monique Lhuillier, Ralph Lauren, Michael Kors, DVF, Zac Posen, Stella Nolasco, BCBG, and a couple of others.
--------------------------

What do you love most about NYFW? Let us know in the comments below!