Whether you're dropping by a casual izakaya or going full party mode at the Roppongi district, being properly dressed is always a good idea. But when it's freezing outside, what exactly should one wear on a night out in Tokyo? Read on for some pointers on how to slay the night during the winter season in Japan's capital.
Prepare a stylish coat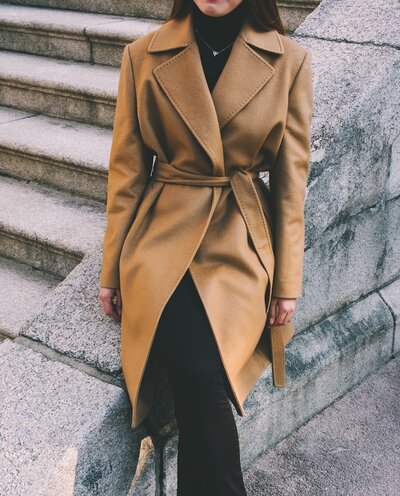 First things first, you need to pack a stylish coat that can pair easily with any ensemble. As tropical-dwelling gals, we often forget this essential item. But investing in one is a good idea, especially if you love travelling to other countries during their winter season. Temperatures in Tokyo drop during the night, so in order to ensure a comfy and fun night out, you should never forget to bring a coat. If you did forget to pack one, no worries you can get a cute one at thrift shops like Don Don Down On Wednesday to score a bargain, or, if you have a bit more to splurge, go to the Comme des Garçons or Montbell outlets in Ginza and Shinjuku.
Go for the skirt-over-leggings combo
As much as we want to showcase our silhouettes during night outs in Tokyo, it's going to be a challenge during winter unless you've got an on-call personal transfer that can take you from point to point. Your best bet is to dress in a skirt-over-leggings (or any warm tights) combo. This ensemble will keep you warm throughout the night, but it's not bulky and can be really glamorous depending on how you dress it up. Here's a style tip: match it with a pair of elegant drop or hoop earrings for added pizzazz. If you're gonna visit an izakaya, you may need to kneel to sit down and you bet this outfit is very comfy for that situation. Not sure where to shop for tights that you can trust to keep you warm? Head over to any UNIQLO store in the city and you'll surely find one. Be sure to check out their famous HEATTECH collection.


For footwear, choose boots
Some upscale clubs like the Shibuya-based WOMB advises guests not to wear sandals for their own safety, so closed shoes are the way to go. A note: we know that it's not typical for anyone to wear sandals during winter, but lately, the thermal-socks-under-sandals look is becoming trendy. We suggest boots, specifically knee- or thigh-high boots which can also serve as added warmth for your legs. Plus, they're super sexy! When in Tokyo, stop by Tokyo Shoes Retailing Center or SOREL for some unique footwear finds.
What to avoid
Although most foreigners get some consideration from locals, it's still best to avoid wearing an overly casual ensemble, or else you may risk being turned away by pubs in the city. Some of the pieces that you may need to avoid are sandals, shorts, and ripped jeans. Make sure you look presentable, so that means no holes or major stains on shirts. You don't wanna look sloppy on the dance floor anyway, especially not in a fashion capital!
Next, check out these tips on how to enjoy Tokyo as a solo traveller.