For almost a year now, we've been waiting in anticipation for the release of Netflix's Chilling Adventures of Sabrina, a reboot of the very popular TV series Sabrina The Teenage Witch. Unlike its predecessor, this version is expected to be more macabre and 'witchy'. It's turning out to be quite promising especially with talented Kiernan Shipka of Mad Men fame as the lead. Set in the 1960s, Sabrina's journey focuses on reconciling her identity as a half human and half witch. As always, she's accompanied by her sassy aunties and Salem the talking cat. Are you hyped up yet?
While waiting for its release, how about we imagine what teenage Sabrina would wear to prom as a witch mingling with mortals in the 1960s? Here's what we have in mind.
For the dress: A black, floor-length lace dress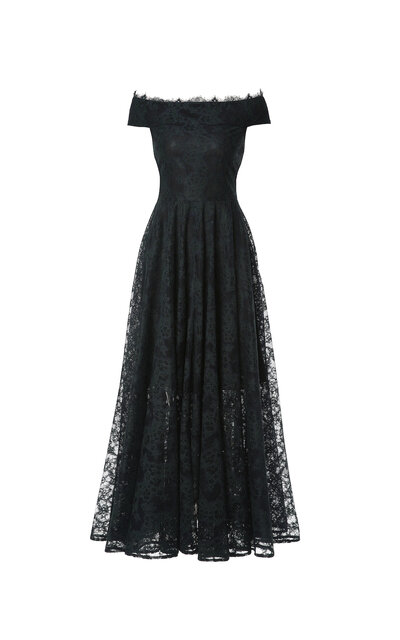 MARYLING Open Shoulder Lace Evening Dress, SGD1,375/~USD994.73
Teenagers back in the early part of the swinging '60s would often wear tea-length and floor-length prom dresses with a slightly slimmer silhouette than the full skirt dresses of the previous decade. As an adolescent, we'd think Sabrina would also love to sport this fashion trend. And if the trailers are any indication of what specific design she'll be wearing, we'd say that she'll go with an all-black dress due to her ties with the witch world but it will feature romantic lace details to show her cheeky, human side. After all, she's not your typical scary witch!
For shoes: Kitten heels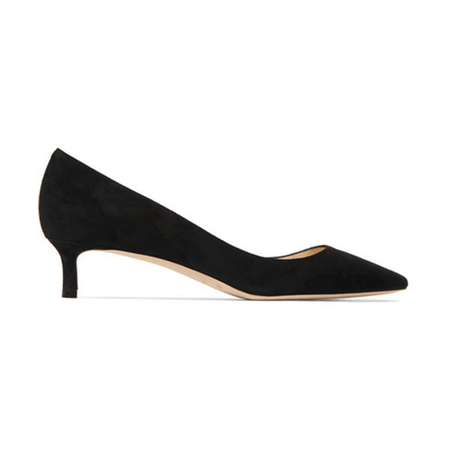 Jimmy Choo Romy 40 suede pumps, USD595 (net-a-porter.com)
Kitten heels were all the rage back then and we can understand why. It's an elegant-looking shoe with a minimal heel that will give you a height boost but won't leave your feet sore even after a few rounds on the dance floor. Not even Sabrina will be able to resist its appeal.
For accessories: Red gloves, cat-shaped earrings and a choker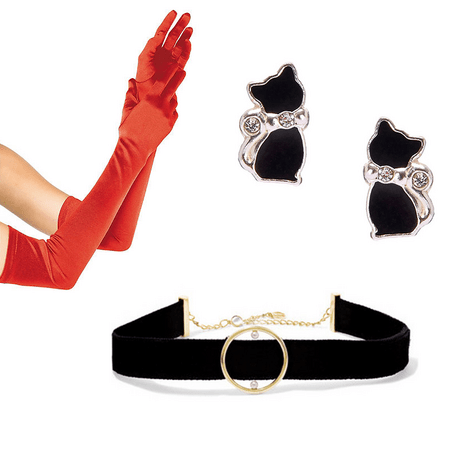 Long Party Bridal Dance Opera Length Satin Gloves, USD9.99 (amazon.com), Sterling Silver Crystal Black Cat Earrings, Price unavailable (claires.com), ANISSA KERMICHE Velvet 14-karat gold and pearl choker, USD2,500 (net-a-porter.com)
Gloves were practically a must-have for proms because they were deemed as a formal occasion and a classy lady would be expected to wear one. Instead of the usual white silk gloves, we imagine Sabrina going for a red one to amp up the witchy and enigmatic vibe. For earrings, cat-shaped ones would be the obvious choice. And finally, a black choker or collar necklace to tie up the look.
Her beauty look: Red lips and curled hair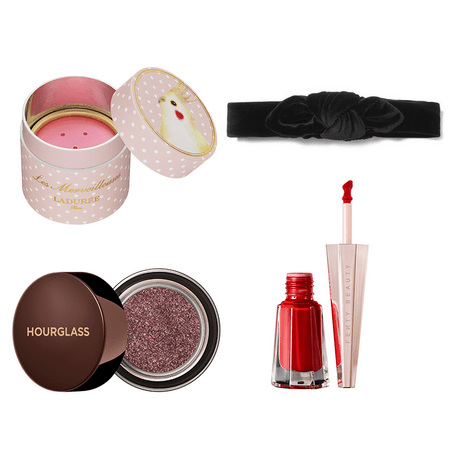 Les Merveilleuses Ladurée Cheek Color Powder in Shade 01, SGD50/~USD36.17; Hourglass scattered glitter eyeshadow in Aura, SGD48/~USD34.72; Fenty Beauty Stunna Lip Paint in Uncensored, SGD36/~USD26.04; MAISON MICHEL Tali knotted velvet headband, USD470 (net-a-porter.com)

Basing on the trailers, Sabrina keeps her beauty look on the neutral side. Her eyeshadow is often just a soft shade of barely-there pink-peach and so is her blush. The only exception is her lips which she paints in red lipstick. For the prom, we think Sabrina will still stick with the neutral palette but will add a bit of shimmer. And of course, she's still gonna wear her signature black headband and beautiful curls.
Next, see what Tina from Fantastic Beasts will wear in 2018's corporate world.