A woman's bag is a never-ending mystery. It contains not just her essentials, but bits and pieces of her personality as it is her daily companion throughout her many ventures. And it made us curious: what do some of our Clozette Ambassadors take under their wing as deal with their hectic schedules?
Ahead, let's take a peek at what digital influencers Chi Maracha, Char Deocareza, and Mariane Lim have in their beauty bags, and learn more deets about their chosen essentials.

Char Deocareza

"Personally, I don't like a heavy bag, and bringing what I only need for a day is enough. I normally bring my daily essentials such as powder, lipstick, lip balm, mirror, phone, wallet, planner and a pen. In addition to that, I also throw in my sunnies and lotion as they are part of my summer essentials.
My day is usually full of activities so I see to it that my planner is always with me. I also make sure I keep my skin protected from the UV rays of the sun so I always bring my body serum, too."
Chi Maracha
"I usually bring my wallet with ID, my protection from heat like sunglasses and my cute fan, my perfume, a pen, my trusty phone and headset to deal with long travels or crazy traffic, and lastly, my powder and lippies to help me freshen up!"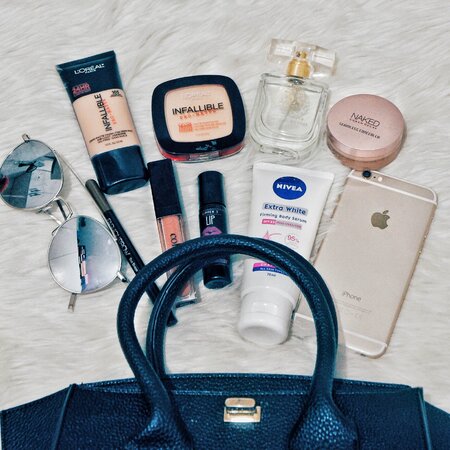 "What's inside my bag? Here's a peek into some of my favourite items that I'm always carrying around: my phone, favourite lippies and liptint, sunglasses, eyebrow pencil, L'Oreal Infallible powder and foundation to keep me fresh all day, my favourite Soleil Et Lune perfume, and of course, my body serum because it has advanced SPF33 and protect me from UV rays."

--------------------------
From three digital influencers to another, find out what Francesca Tan's beauty essentials are
here
.