They say the best part of being in a relationship is having someone to share the good and bad times together. And ideally, being in a relationship should also propel you to try things you're scared of and try to improve the areas of yourself and your life you find unsatisfactory. Well, we got to witness those in the third season of How Do I Look? Asia when, for the first time in the show's history, a couple came to Jeannie Mai for help with their styling problems.

We know it must have been a unique experience for the couple, so we asked them to share their thoughts about their journey together.


Before the makeover
If you want to move forward, you have to leave some things behind. And while Rita and Timothy were excited about change, they weren't as excited about the idea of giving some of their favourite clothing pieces away.
Rita said she wishes she did not see her green top in the "Ewww Tube." "It's so comfortable, big and airy," she said. "When I put it on, I feel transparent. And the best part is it's a little see-through, haha."
As for Timothy, it was his bat shirt. "It glows in the dark," he said. "And it's actually quite cool cos not a lot of shirts glow in the dark. At night, people can see me."




After the makeover
Speaking about their styles from before they joined the show and after it ended, Rita said her partner Timothy's style has always been predictable. Now, she finds his "manly" style refreshing and exciting. Timothy, on the other hand, said Rita was always seen wearing clothes that make her look older than she actually is. But her current style makes her look like a "fine woman," Timothy added.
Seeing each other after they had the makeover was a pleasant surprise for both. "I forgot how good-looking and smart Timothy can be," Rita confessed. "I miss going out on dates with him, but now we can do it often." Meanwhile, Timothy shared, "Seeing her dressed up nicely after a long time makes me fall in love with her again, just like how I first fell for her."
Of course, they have precious takeaways after the makeover. For Rita, it was finding an alternative for something she's always dreaded. "Timothy has always wanted me to wear sleeveless shirts, but I just really don't like them," she said. "Jeannie said an off-shoulder top is the best alternative, and I agree. So it's like a give-and-take situation. I also learnt that certain dress cuts complement my body shape and make me look slimmer."
For Timothy, it was learning that style is impactful. "Jeannie mentioned that hairstyle makes a big difference and dressing up makes you stand out," he said. "Rita has always wanted to go out on proper dates with me, and now we do it once a month. Now, when we get dressed up, we make sure to compliment each other to keep the momentum going."
The experience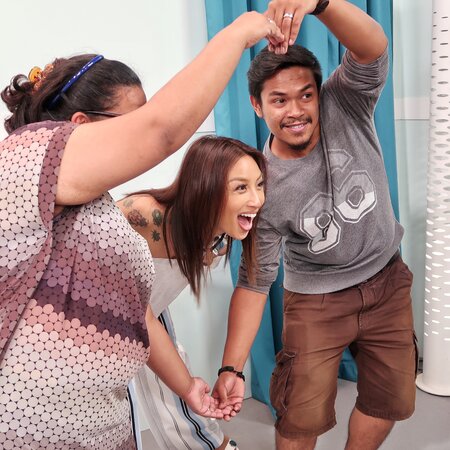 Of course, being on a show with audiences from all across Asia can be quite daunting. So we had to know how the experience affected their personal lives.
"Mentally, I became more confident, especially at work," Rita said. "Physically, I know no matter what size I am, there is a style that suits me and makes me look good. I still hate sleeveless blouses, but now I know there are off-shoulder tops that would be great for me to wear instead."
For Timothy, the experience made him more confident and helped him step out of his comfort zone. "I dress up and style my hair daily now," he added. "I have come to realise how good-looking I can be if I put an effort in how I dress up. Oh, and I have also started shaving routinely."
But the best part of the experience? "Seeing myself with different styles that I never know I could pull off," Rita said. "And learning how certain styles fit my body shape." Meanwhile, Timothy said, "Being able to dress up stylishly but casually."
Want to see more inspiring makeovers? Don't forget to catch the last episode of How Do I Look? Asia on Monday on DIVA TV.