Don't have plans for New Year's Eve yet? We got you. Whether you're a party animal or someone who prefers a low-key celebration, there's a perfect place for you to ring in 2020. Ahead, we list some of the best places to be at as we welcome the new decade.
Cable Car Sky Dining (Singapore)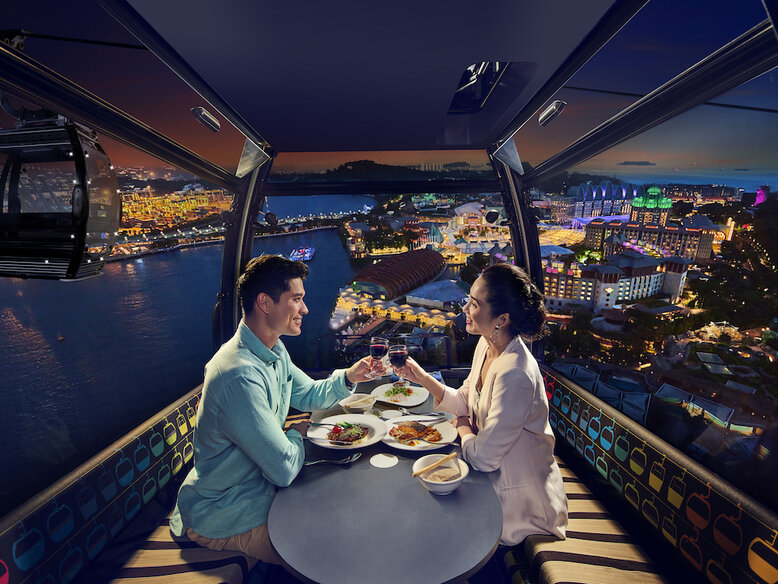 Get literally high this New Year's Eve at Faber Peak's Cable Car Sky Dining. Aside from a one-night-only special menu featuring "tank-to-table" live Maine lobsters as the central ingredient, guests will be treated to a spectacular view of three major fireworks displays: one right from the top of the Mount Faber Cable Car station and two from Sentosa Island. After that, you can also head down to Arbora and Dusk Restaurant & Bar to see live band performances and partake in party games. How fun!
ATLAS Bar Roaring '20s Party (Singapore)
As an ode to the Art Deco era, ATLAS will be hosting a party that will transport guests back a hundred years in the roaring 1920s where opulence and splendour take centre stage. Expect an evening overflowing with champagne, signature cocktails and canapes while you groove to the beats of renowned local DJ Titus. Standing tickets are available for SGD220, while seated tickets are priced at SGD280 with a minimum party of six. Make your reservation here. It's time to party like a guest in The Great Gatsby.
Dinner In The Sky (Kuala Lumpur)
Want a private dinner with a twist? If you're in Kuala Lumpur for New Year's Eve, definitely check out Dinner In The Sky. Just as the name suggests, you will be suspended in the sky while you feast — giving you the best vantage point to view the city's most breathtaking firework shows. The experience will be for only an hour and will include a sumptuous three-course meal. For reservations, click here.
Zouk 2020 Countdown Party (Genting)
Ask any local and they will tell you that Zouk Genting is the place to be in Malaysia for a super fun and exciting New Year's Eve countdown. Every year, this bustling party place throws a big celebration for those who love the nightlife. Ready for a wild ride into 2020? Book tickets here.
The Peak at Grand Hyatt (Metro Manila)
For an intimate, quiet New Year's Eve dinner, the Peak at Grand Hyatt is a good choice. Standing at 318 meters tall, the place will give you the best view to witness some of Metro Manila's best firework displays. As for the menu, you can choose from the wide selections of cocktails and grilled dishes. When you're done with dinner and ready to spice up the night, you can go to the music lounge to hear soothing tunes from live bands. It's the best 2019 send-off for low-key gals!
Discovery Shores (Boracay Island)
Are you a certified beach bum? Head over to Discovery Shores in Boracay Island. For the New Year's Eve countdown this year, the theme will be a Havana-inspired soiree. Get ready to salsa and mambo your way out of 2019 while you toast to piña coladas, mojitos and margaritas. Authentic Cuban cuisine will also be served to guests all night long. For beats, Zel Band, Island Rhythm Force and special guest DJs Ron Poe and Hanna Itchiko will take care of the dance floor. If dancing isn't your jam, you can also just chill at the beach and soak in the moment.
Next, discover fun ways to upgrade your look for 2020.