Flavours rooted in culture and tireless effort grow into unshakeable classics with a modern flair. Today's Japanese cuisine is a melting pot of different times appreciated by the people who still remember the little downtown of those eras ago. Here's what to feast on in Asukasa today.
Ieyasu Udon
1-16-10 Asakusa, Taito, Tokyo Prefecture (Ueno, Asakusa)
Prices between 1100 to 1800 yen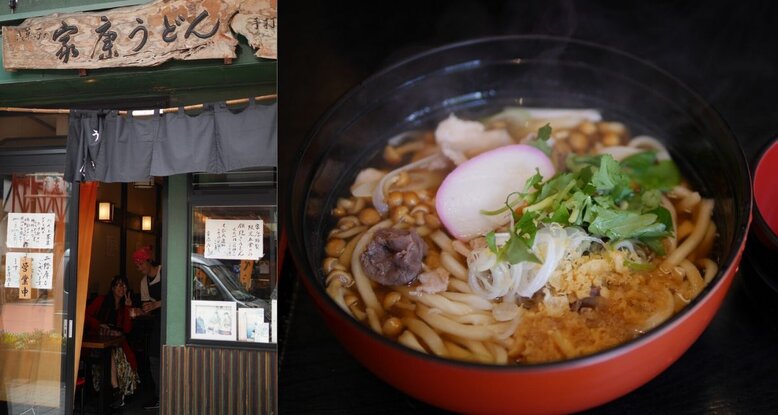 The aroma wafting out of its doors will make sure you don't miss it
Everything about this eatery feels as unassuming as its humble staff. This family business feeds hand-kneaded udon noodles alongside batter-fried tempura side dishes to anyone who walks through its door. A testament to its timeless authenticity, this shop sees mostly locals flocking in to slurp every last drop.
Ieyasu udon features wheat noodles topped with savoury chicken, pork and beef slices. Assorted nameko mushrooms, fish cake slices and garnishes round off the pile. Taste those hours spent simmering atop a live stove in the broth flavoured to perfection with dried bonito stock!
Ichiran Ramen
111-0032 B1F, 1-1-16 Asakusa Taito-ku Tokyo-to
Prices between 800 to 1600 yen

The elegant taste of creamy broth, chewy noodles and the right amount of tare (red spicy sauce)
Across Japan, ICHIRAN carries refinement and elegant taste into its ramen as well as its service culture. True to its Hakata (Fukuoka) roots, which feature noodles that are pulled straighter than normal and simmered in meaty yet lightweight pork bones-based broth, ICHIRAN promises the most authentic of tonkotsu ramen culture.
Typically, ICHIRAN assigns customers individually to separate dining cubicles where they may enjoy their meals to the fullest without distractions. However, at Asakusa ICHIRAN, customers who come in groups may choose to share the same eating space as others at the tables available in addition to individual seating.


Handmade chewy noodles hint at the raw flavour and signature of its secret blend of various types of wheat flour unique to ICHIRAN. Darkened with a dash of dashi and tasting like liquified pork bones stewed overnight, a thick pork broth blankets those tasty strands.
Tsukiji Tama Sushi
Asakusa EKIMISE 7F 1-4-1 Hanakawadō, Hanakawado, Taito-ku, Tokyo
Prices between 600 to 3000 yen
As in its name, this restaurant originates from the famous Tsukiji Fish Market. A testament to its outstanding quality, the restaurant receives the freshest produce direct from Tsukiji (and later the Toyosu Market). Since its establishment dating 1924, year 13 of the Taisho era, Tsukiji Tama maintains its pride as one of the oldest surviving sushi joints today.

So fresh and cleanly sliced, the raw smell and taste just disappears on the knife
Natural oils clinging onto the silvers of sashimi seep into the hand-rolled rice nuggets, imbuing the sushi with lip gloss-like lustre. Drawing from their years of experience marrying delicacies to palettes, the chefs adopt an artisanal approach to the plank.
From the ritualistic preparation for a day's hard work to supervising the cooking process, the chefs have their eyes and hands everywhere.
Asakusa Mugitoro Honten
2 Chome-2-4 Kaminarimon, Taito City, Tokyo 111-0034, Japan
Prices between 800 to 2500 yen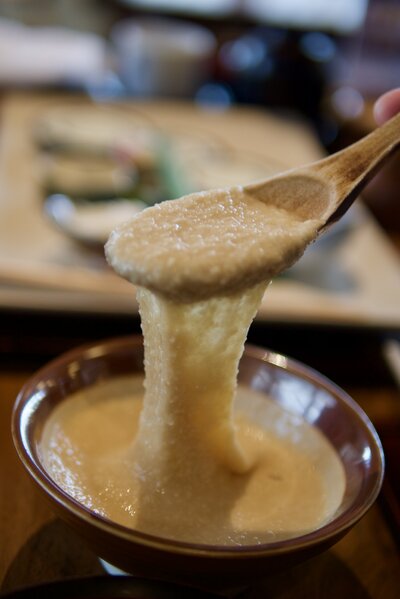 Beyond Japan and native tastebuds, mugitoro remains a foreign concept. This is a sticky, gooey and traditional Japanese delicacy of boiled grain, commonly barley rice, topped with grated Japanese mountain yam. Packed with minerals and fibre, every mouthful feels like a detox.

Every meal comes supplemented with an assortment of meats, pickles and bites that complements mugitoro's light flavour. So traditional, its waitresses serve course after course throughout the meal in kimono.

This venerable restaurant continues to draw daily crowds of mostly Japanese locals from and beyond Tokyo since its establishment in 1929. Apart from being one of Asakusa's, and perhaps all of Tokyo's oldest restaurants, the very experience of eating mugitoro is a treat in itself.
Often facing a full house by mid-day, Asakusa Mugitoro recommends a reservation to any interested party. Set lunches and buffets are available at comparatively higher pricings but given its heritage, the traditional Japanese dining experience is just value for the money.
Café Meursault
2−1−5 Nakamura Building, Kaminarimon, Taito City, Tokyo, Japan 111-0034
Prices between 600 to 1500 yen

Round off the evening at Café Meursault, where good conversations are savoured over equally good coffee. By nightfall, wreaths of fairy lights illuminate the short flight of stairs straight to its doorstep. The cafeteria interior is cosy and typically patronised by locals seeking refuge from the noise and stress.
Feel like the daintiest creature sitting at a filigree-wreathed table. Nurse a ceramic mug of steaming hot chocolate while anticipating the nutty chocolate fudge brownie to arrive.
Those slipping into romance may duck out onto the balcony for a private moment of their own overlooking Sumida river so long as they bring their mugs along!
And… that's just some of the many restaurants, cafes and eateries around Asakusa that are all within walking distance of each other. We think you'll easily walk up an appetite easily enough.
Love Japanese food? Here are some reasons why you would enjoy nabe.