Working from home certainly has its perks: you skip the rush hour, save money on lunch, and you get to wear whatever you want. When your office is only five feet away from your bed, it can be tempting to go straight to your laptop — still in your pyjamas, sans bra — and start your tasks right away to maximise working hours. But studies show that this may not be the best move if we want to be more productive while working at home.
"Enclothed cognition", which refers to how the clothes we wear impact our thinking, is a term coined by a group of researchers who found that wearing clothes associated with work or expertise can improve focus. A more recent study published in Social Psychological and Personality Science also supports this theory concluding that formal clothing "enhances abstract cognitive processing". Famed fashion psychologist Dawnn Karen, author of Dress Your Best Life, is also an advocate of this concept. She talks about the "mood enhancement dress", a theory that what you wear can actually alter your mood and frame of mind.
To personally test the theory that wearing work clothes can boost focus and productivity, I also sought the help of two stylists — Steffiny Albarillo and Ning Nuñez — to help me formulate easy work ensembles I can wear at home for a week.
Day 1: Long-sleeved turtleneck grey top and pink sheen skirt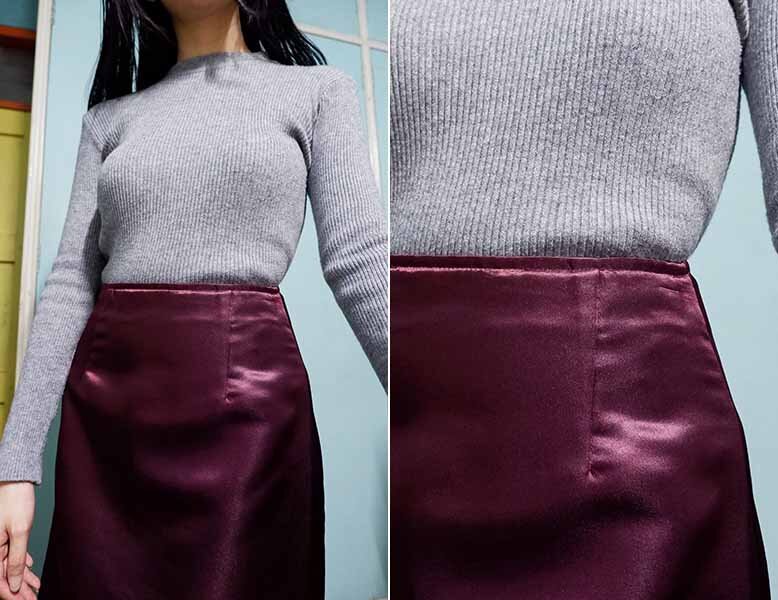 "A more relaxed version of power outfits, in my opinion, would the best tip. Breathable and comfortable fabrics would be perfect for the tropical climate," Albarillo shared. Following this advice, I looked for workwear pieces with soft or smooth fabrics. Surprisingly, wearing it felt very comfortable for the most part. It's a good thing the weather was cooperative that day.
Day 2: Short-sleeved turtleneck maroon top paired with a plaid mini skirt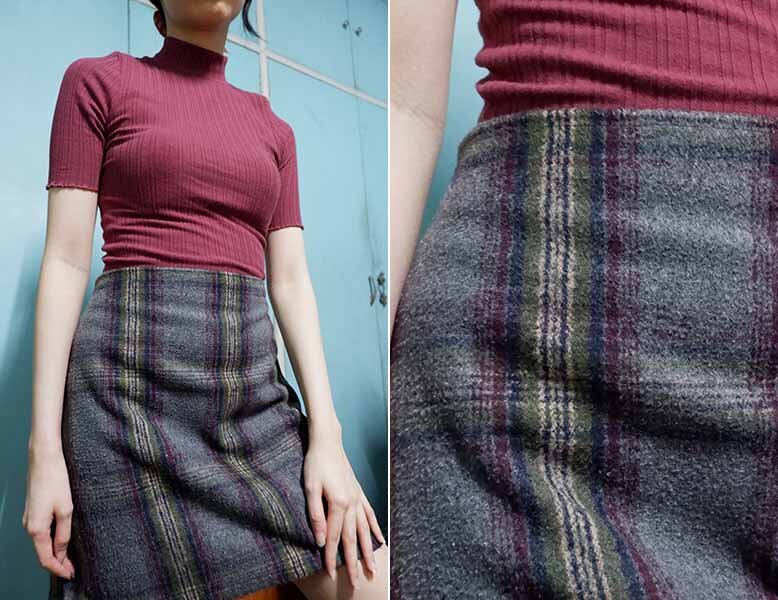 This preppy look is my staple style at the office because it looks sleek yet it's super comfortable. The skirt has a stretchy waistband so it doesn't restrict the abdomen area, especially after a heavy meal. The top is also made of cotton so even though it's a turtleneck, it feels snug, not stuffy.
Day 3: Yellow gingham top with a square neckline and black bandage skirt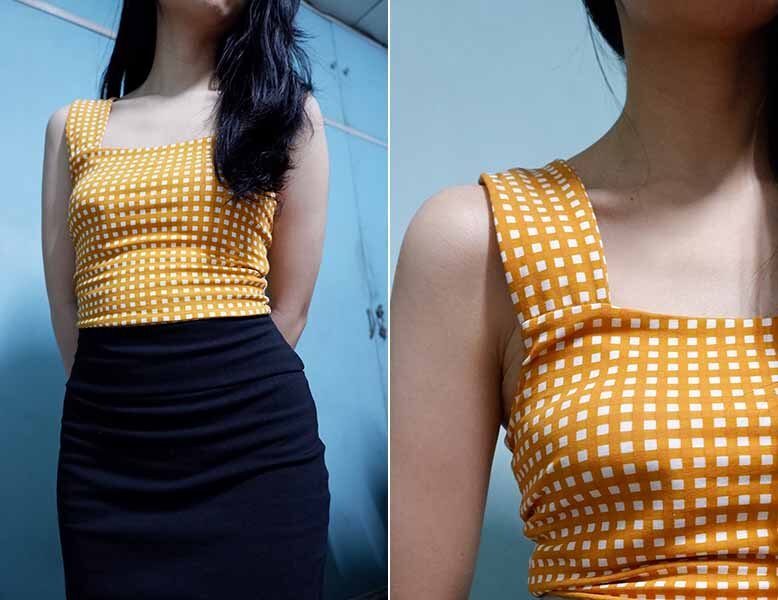 On the third day, the weather was quite unforgiving. It's 28°C; very hot and humid. I was advised by Ning Nuñez to pick out a colourful, printed outerwear to keep things fun and boost my mood but since it was a sunny day I opted for a gingham sleeveless top instead. While the top was a wise choice, because it's very airy and its flexible spandex fabric is perfect for moving and sweating, the ultra-tight black bandage skirt was anything but. I thought pairing the top with this skirt was a cute look, but I still want to be able to keep it comfy at home.
Day 4: Pink top with shoulder cut-outs matched with a plaid a-line skirt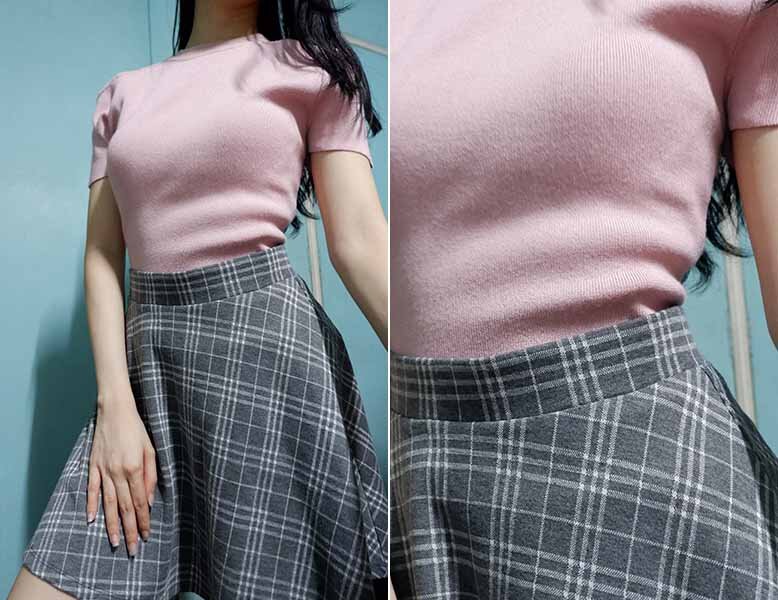 You know the saying, "you feel better when you like what you wear"? It's true! Kudos to fashion psychologist Dawnn Karen, "mood enhancement dress" really works. This outfit boosted my mood and perked me up since the top is in my favourite colour and the a-line skirt allows ease of movement.
Day 5: Pink tank top with jean-like pants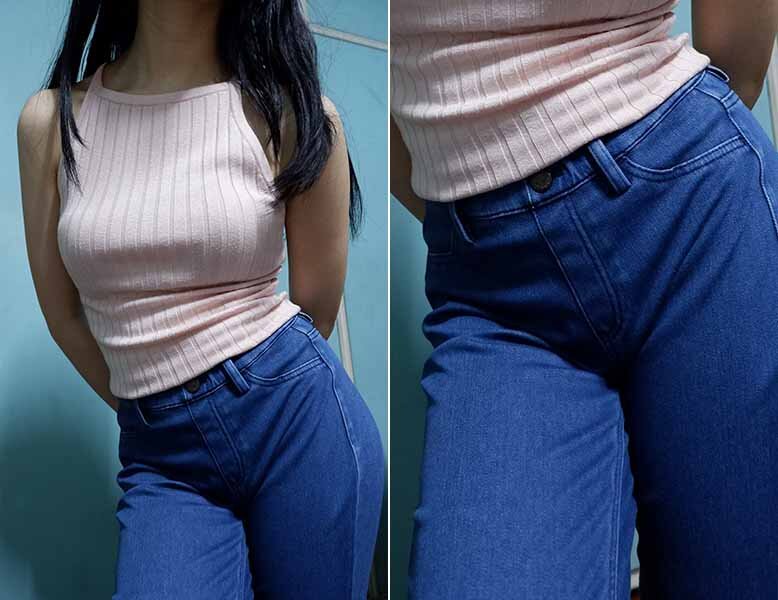 Casual Friday! Out of all the work outfits, this one was obviously the most comfortable. It's surprising, though, especially for a skirt and dress lover like me, to find pants easy to wear at home. This lightweight pair, a definite keeper, is from Japanese brand UNIQLO.
Thoughts on this style experiment
Did wearing work clothes at home boost my productivity? Yes, to a certain extent. Circling back to the studies, it's important to highlight that your "abstract cognitive processing" and focus would improve when wearing work clothes only if you associate work clothes with expertise. As someone in the creative field where dress codes are more relaxed, I don't often associate wearing "professional" working clothes with a person's mental ability. Consequently, the effect on me isn't as strong as compared to someone who works in a corporate setting, where observing dress codes are a given.
But there is still an effect and I certainly felt more "in the zone" as compared to when I'm just working dressed in my loungewear. It did allow me to become more focused, which helps a lot since working from home can be distracting when there are no superiors or teammates around to keep you on track. Another perk is that I can better separate "work-life" from "home life". When I put on my workwear, I know that I'm entering office time. When I change into my loungewear, I know I can finally relax. Boundaries are set clearly.
Another factor worth noting is that the type of clothing you wear will make or break your concentration — whether you're at home or in the office. In my experience, comfortable ones like the UNIQLO pants made me more focused; wearing the bandage skirt was a constant distraction on the other hand. Overall, it was a fun experiment that reminded me of how powerful the clothes you wear can be. You can change them, but they can also change you.
Style smart. These are the pieces to wear for a video con call.