"When I meet you, I know you are part of my tribe because of the clothes you wear."
It has been quite a year for
Coach
and its Creative Director
Stuart Vevers
as Fall 2015 marks another visual display that reflects a journey across America. An almost complete turn-around from their Spring 2015 collection that
re-imagines the American journey
, the Fall 2015 collection is centred on the idea of "
Brooklyn meets the Great Plains
," with the concept of a city-to-country vibe reflected throughout the collection.
It's all about creating a visual rendering of the nomad life, someone who traverses from place-to-place, city-to-country, each time drawing inspiration from each destination--with fashion, lifestyle, memories, and place converging in a collection that empowers the tribe generation.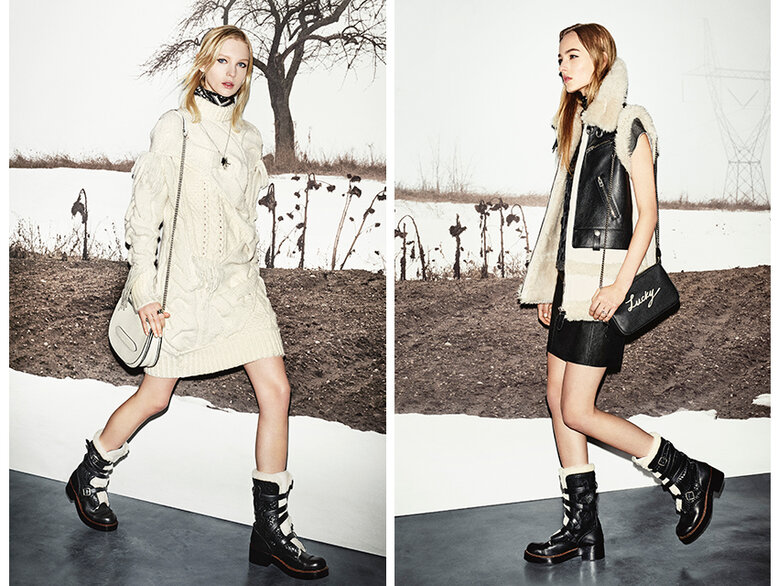 In dark hues expected from a Fall collection, the pieces taken both individually and as a styled whole aim to sharpen that association and connection that happens when you encounter and experience the charm of the familiar.

Stuart Vevers
has essentially taken the quintessential American life, honing in on the iconic references to create new, modern iterations--turning the known and familiar into something uniquely Coach.
Be A Wandering Magpie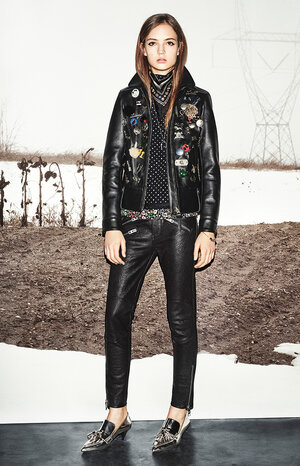 The highlight of this look is the Embellished Racer Jacket that is all about capturing the movement of people and the memories they've learned to collect with a touch of toughness and rebellion. The jacket is embellished with more than 30 hand-assembled pins that can be rearranged or removed for ultimate personalization. It's a look inspired by the image of that nomad Coach Girl who takes a little something with her from every place she visits as she journeys across life.
Channel That Tough City Spunk
This Applied Pocket Dress features an ever-flattering fit and flare silhouette and a patchwork of graphic Americana prints juxtaposed with knit fabric. It's a look that's all about the subtle balance of utility, luxury, and tradition. Paired with the Zip Moto Boot that's inspired by vintage tanker styles, it quickly elevates the look by taking the Coach Girl from country-sweet to be all tough and refined with a dash of city spunk.
Go For That Luxe Comfort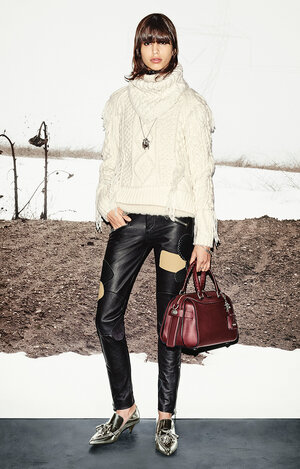 The highlight of this look is the Patchwork Aran Funnelneck that is all about taking the familiar and making it new. Inspired by traditional fisherman's sweater and combined with all-American patchwork, this intricate piece is all about movement and tradition with hand-knit precision. After all, luxe comfort is all about the juxtaposition of shapes and cuts, creating a silhouette that looks comfy and chic. It makes the Coach Girl relatable, familiar, and not at all intimidating.
Hone In Your Street Edge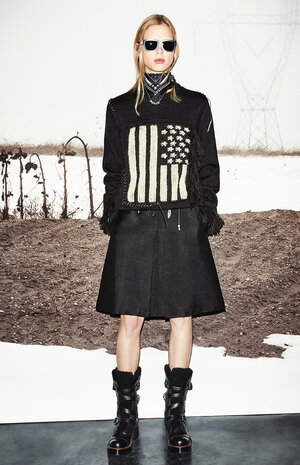 This look is all about taking the Coach Girl and having her embody that tough street edge--elevating her look into a visual rendering of Stuart Vevers journey across America. It's a well styled city-street look with a pop of patriotic spunk, as seen in the Flag Intarsia Sweater which presents a luxurious rendering of the stars and stripes. The look is topped off with a NOMAD Block Letters Necklace for a touch of playful innocence of school days and the freedom of the open road.
Embrace The Layers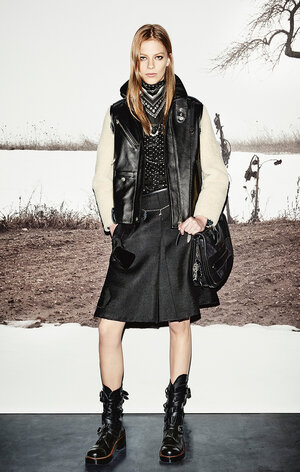 Fall season is all about the soft transition into layers, taking the flowy silhouettes of Spring/Summer and adding a touch of heaviness to the look with the introduction of darker hues and chunky layering. For a slouchy, layered look reminiscent of varsity jackets from high-school days in the country, the layering of the Sheepskin Sleeve Jacket and Skulls Silk Foulard Square Scarf gives the Coach Girl a tough-yet-luxe look for a mix of old-school carefree days with the tough-and-rough days in the city.
--------------------------

Love Coach's Fall 2015 collection? Let us know in the comments below!