What do Marilyn Monroe's beauty mark, Victoria Beckham's pout and Karl Lagerfeld's ponytail and shades have in common? If you're thinking "signature", you're absolutely right. The trio of celebrated style icons have each created a signature look that's become synonymous with their names the way red soles are redolent of Louboutins and the letter "i" of Apple. When you're known and remembered by your "signature", whatever it may be, you know you've successfully branded it like Beckham.
If you're still searching for it, though, there's a simple but extremely effective way of making a lasting impression: identify a signature scent that's representative of you and your personality — your olfactory thumb print, if you will. And what really makes your signature scent a powerful branding tool is that you don't even have to be present to be remembered — you are wherever your perfume is!
To guide you to your signature scent, we've gleaned a few useful tips from the experts, and rounded up a selection of perfumes to match the following personality traits.
--------------------------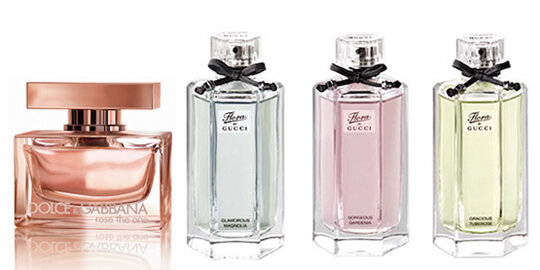 The obvious choice would be something from the floral family of fragrances. Why? Floral fragrances tend to be lighter, for one, as the key character of a floral fragrance lies in the heart notes. They are elegant, romantic and have, by far, been the most popular choice for the feminine woman.
Recommended:
Dolce&Gabbana Rose The One and the Gucci Flora Garden Collection.