The Spring/Summer season beckons, and you know what that means – Spring/Summer styles are in season, and it's time for a wardrobe update! For the style connoisseurs, there is no doubt that two of the most exciting Singapore shopping havens that come to mind are Bugis Junction and Bugis+. Situated right in the heart of Bugis, these two malls make one big, vibrant fashion playground where youth and style collide.
Before you make your way down to get your shoppin' on, we sat down for a quick pre-show chat with Daniel Boey, fashion veteran and producer of
Bugis Junction X Bugis+'s Hello Spring! Spring Summer Fashion Show 2017
. Who's ready for a high-toned showcase of fashion tenants and offerings from Bugis Junction and Bugis+ as part of their Spring Summer campaign from 31 March 2017 to 30 April 2017?

Keep reading as we picked Boey's brains on building a wardrobe of essentials and captivating happenings you can expect at the upcoming shows.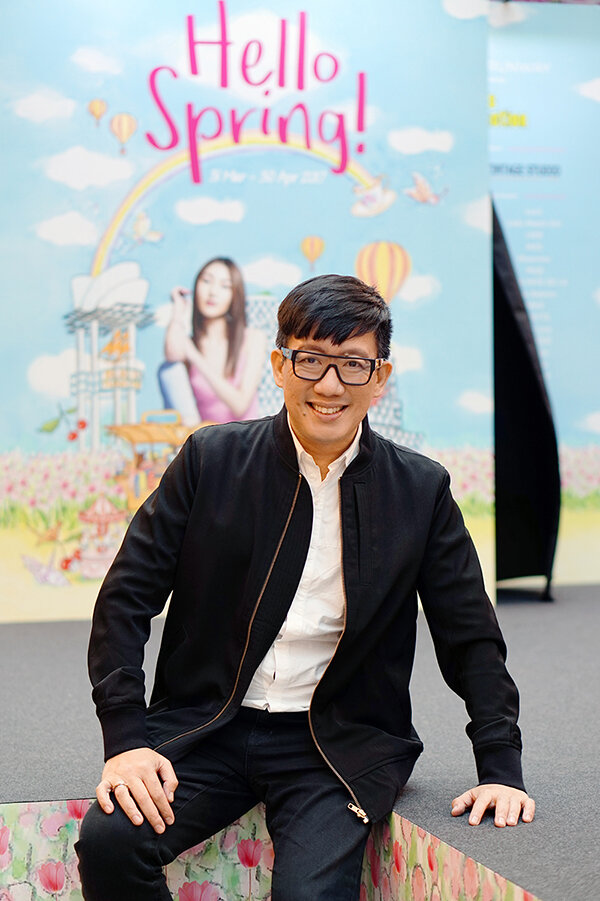 What's a day in the life of Daniel Boey?

"All I can say is that I wish there was more than 24 hours in a day. I could be sitting down, brainstorming concepts with the team… We could be running around picking clothes, styling clothes, casting models, fitting models, or [doing] rehearsals, and so on. Sometimes, [we do] all of the above in one day. If we're in the middle of fashion week, we'll be doing that over and over and over again. So in a nutshell, most of our days are spent doing things we really, really enjoy."
How do you come up with the overall creative direction of each Bugis Junction X Bugis+ shows?

"First, we had to study what the demographic of the mall was, what stores were selling, who the customers were, and then we observed what they were wearing. We tried to merge all of those things with the current trends, but we also wanted to make it accessible. We are firm believers that the wardrobe should last you as long as possible, and you should buy items that should complement what you have from last season, and not just go for trendy pieces only. We wanted it to be accessible in that when people come to watch the shows, they have something to take away from it, go into the stores, and build a wardrobe based on their own aesthetic.
We also try to vary the themes, because no two people are alike in personality. Our idea is to give people insight on how they should style their clothes without being inaccessible."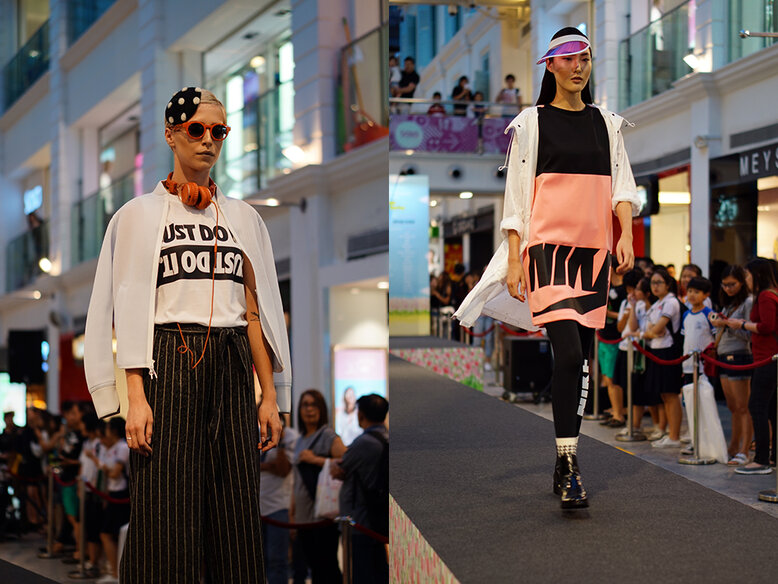 'The Essentials' runway show
What was your inspiration behind the opening show of the Spring/Summer showcase, "The Essentials"?
"Whenever I do styling workshops, I always say that the foundation of one's wardrobe is to have a very strong collection of basics – your essentials. These essentials are not just something you can buy and forget about. You build your essentials every season.
Looking at my foundation of essentials, I create new looks from that. What I try to do when I shop is when I pick up an item, I try to think of the other items I already have in my wardrobe. It should match at least 40% to 50% of the pieces. Otherwise, I might end up buying something that's so beautiful but I have to build up an entire wardrobe just to match that one piece.
Having said that, I've been guilty of impulse buys as well! But yeah, it is a strategy to building up a stylish wardrobe. With the show starting off with The Essentials, we wanted to show how you could build your wardrobe – starting with the essentials.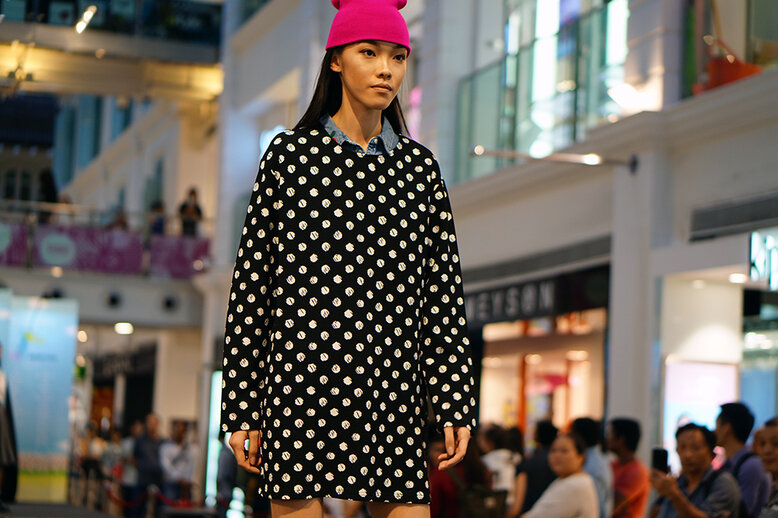 'The Essentials' runway show



What other exciting happenings can we expect on the Bugis Junction X Bugis+ runways?
"I think the show has something for everyone. That's what we try to create for every show. Essentials, Copacabana, Cruise Control… it doesn't apply to any single demographic. Everybody who shops in Bugis – whether you're a student, a working professional, or you're my age group, or an older age group – you can take away tips from the shows.
The shows are also different because it's not just about fashion. We collaborate a lot with music, [because] music is a great part of fashion as well, and a lot of musicians have become fashion muses. We have great musicians coming in and collaborating, and we pick the musicians based on their strong sense of fashion and their aesthetics for the show."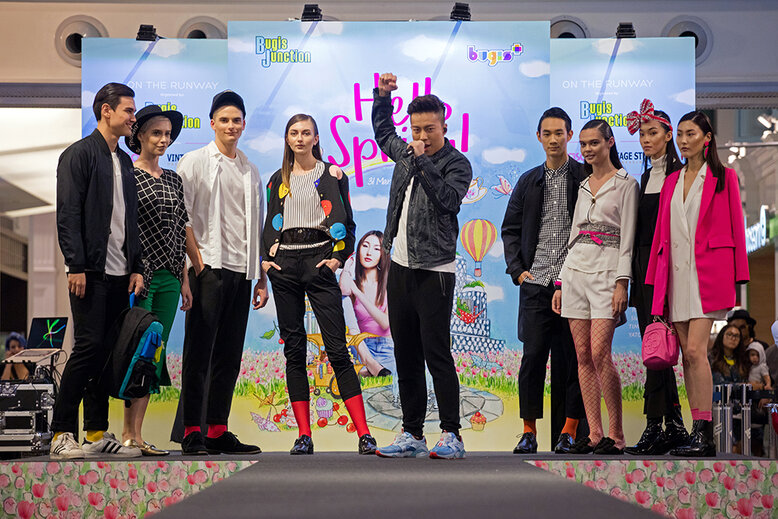 'The Essentials' runway show featuring Nat Ho
What do you consider as a 'fashion faux pas'?
"The one thing that really irks me – and I've discussed this with my team as well – is trying to overdress to impress. You have to be dressed appropriately for the occasion. When you dress according to a dress code, you must also follow your own aesthetic. Don't open a magazine and go, "That looks really, really good." But then the model is 6'2 and you're 3'5.
At the same time, some people overcompensate. They tend to think: I should put on as many accessories as possible, so I clash everything. Therefore, I am fashionable. And then in Singapore, there's also the other problem where many people are underdressed."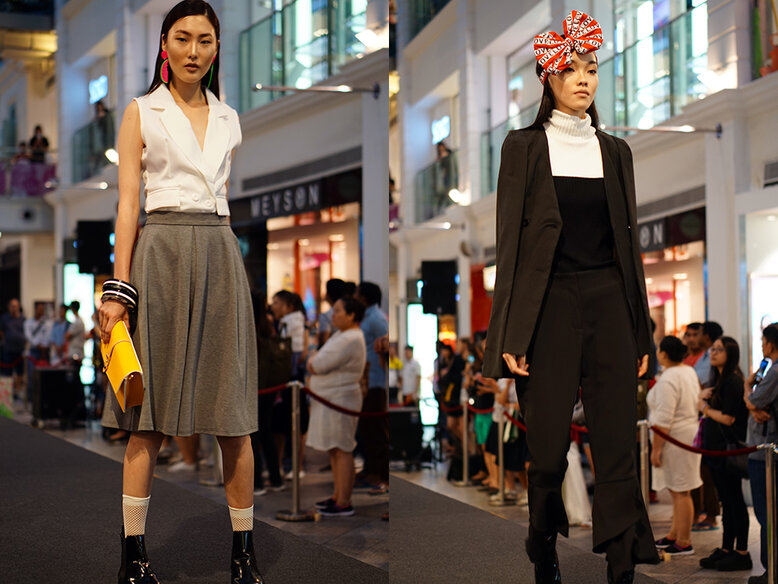 'The Essentials' runway show
'The Essentials' show indeed showed us what the key essentials in our wardrobe should be — a little white dress, a pair of sleek cigarette pants, and a chic blazer, among many others. But aside from the classics with a twist, we were also treated to ensembles featuring the athleisure trend, which is only getting bigger and, dare we say, becoming a mainstay in the fashion arena. Spotting a jacket that I wanted to buy immediately, I'm glad to know that these key pieces can be readily available for purchase at Bugis Junction and Bugis+.

Ps: see you at Bugis+ Atrium, Level 2 this weekend!

--------------------------
Catch the Bugis Junction X Bugis+'s Hello Spring! Spring Summer Fashion Show 2017 this weekend on 8 and 9 April 2017 at the following location & timings:

Bugis+ - Atrium, Level 2
8 April, 4:30PM: "Good Vibes" ft. ShiGGa Shay
8 April, 7PM: "Pin Up Party"
9 April, 4:30PM: "70's Geek Chic"
9 April, 7PM: "Come Play" ft. Sara Wee