Some clothing pieces are just meant to take the world by storm. A year ago, our feeds were filled with everyone sporting that leopard midi skirt, or variations thereof. This year, it seems that we already have a nominee for the "it" dress of the year: Zara's polka dot dress. Currently, the piece is taking over Europe, and surely, it's only a matter of time until it takes over the world. It's become so popular that it led to the birth of an Instagram account, @hot4thespot, dedicated to posting sightings of the dress.
Faye Oakenfull, the stylist who runs the account with 4.5k followers, said it all started with an IG story of an awkward fashion moment. "Back in April, I was working on a shoot and both the Art Director and make-up artist turned up on set wearing The Dress," she told the Stylist. It's been quite a while since the account's creation last May, but people have been actively submitting snaps of the dress since.
It's not the first time a piece from the Spanish brand has received this sort of cult following. Way back in 2016, comedian Lulu Krause created a Tumblr blog just to post sightings of Zara's blue off-shoulder dress. Most of these viral pieces seem unassuming at first, so why the popularity? Their charm lies in their versatility. This polka dot dress, for one, can be mixed and matched with any type of shoes, accessories, or even other clothing pieces, as what their sightings show. No matter your style or silhouette, The Dress is a perfect fit. Plus, with it appearing almost everywhere, we don't really want to miss out.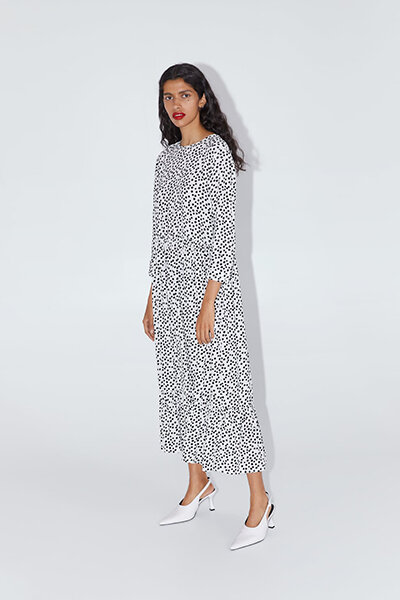 Zara Printed Dress, SGD99.90 (zara.com/sg)
Still, if this black and white polka dot dress with a tiered skirt isn't the one for you, many other options that have the same chic appeal are available. Looking for the same print in another silhouette? Check these out.
The shorter the better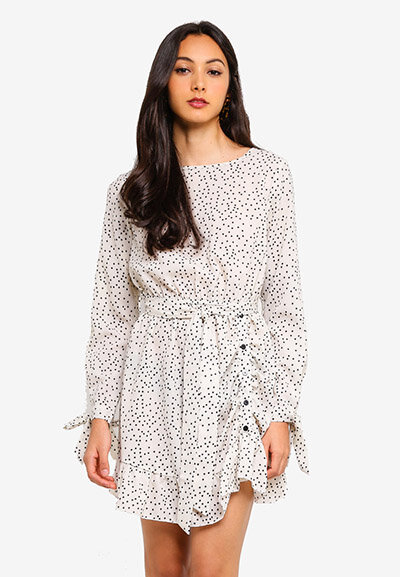 Missguided Ruched Polka Dot Dress, SGD24.90 (zalora.sg)
If you liked Zara printed dress' overall silhouette but not so much its length, then try this number from Missguided. This polka mini dress still has that elegant long sleeves but is more forgiving towards petite body types.
Vintage chic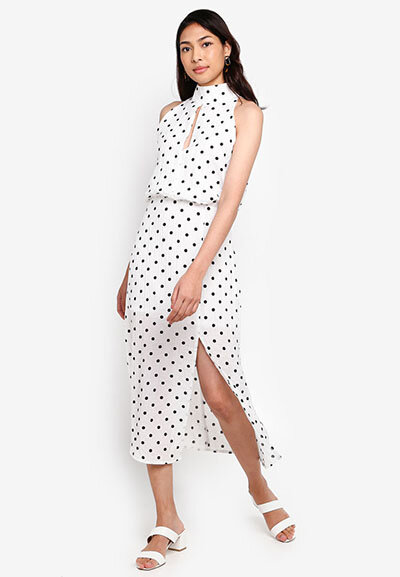 Glamorous High Neck Cut Out Polka Dot Dress, SGD76 (zalora.sg)
For those looking for something a bit sexier, then perhaps this '70s-inspired polka dot dress is for you. Show off some skin with its cut-out details and slit skirt.
Feminine charm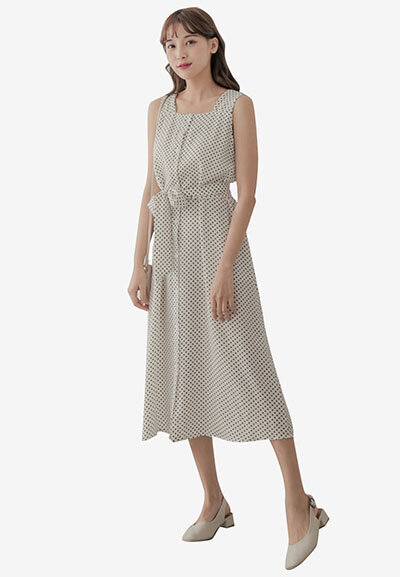 Eyescream Polka Dot Below Knee Sleeveless Dress, SGD44.90 (zalora.sg)
Show off your charming femininity with this buttoned midi. It's not summer anymore, but who's to say you're not allowed to dress in the whimsical pieces of last season?
Straightforward elegance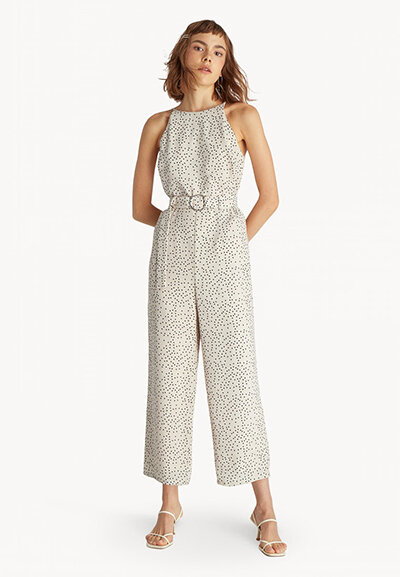 Pomelo Polka Dot Belted Jumpsuit, SGD49 (zalora.sg)
Not into dresses and skirts? No worries! There's a polka jumpsuit like this for you. Freely go about your day with this belted one piece that loosely fits and enhances your figure.
For a night out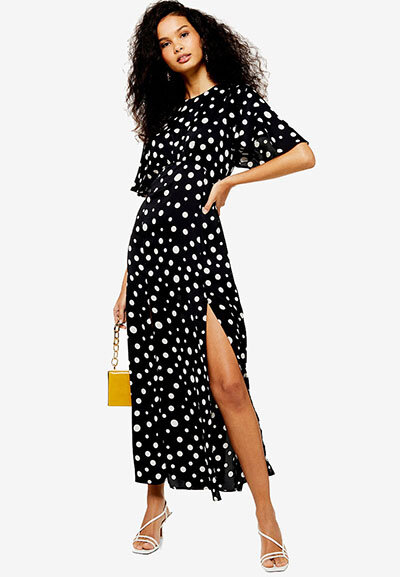 Topshop Austin Polka Dot Print Angel Sleeve Dress, SGD89.90 (zalora.sg)

Feel that the black print on white is too much of a day outfit? Try out a reversed version with white dots on black with this Topshop piece for an ensemble that's also great for evening affairs.
Colour me happy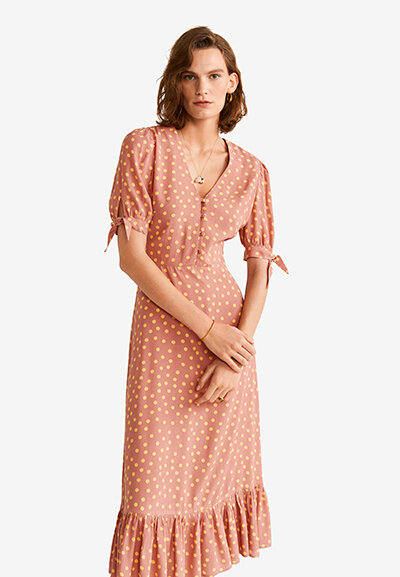 Mango Polka-Dot Ruffled Dress, SGD99.90 (zalora.sg)
Not into monochromatic pieces? Add colour to your day with this rose polka dot ensemble. With its ruffled skirt, you can inject a bit of girly sophistication to your weekend dates.
(Cover photo from: zara.com/sg)
Next, wear your polka dot dress with the French chic hair trend.