STYLE INSPIRATION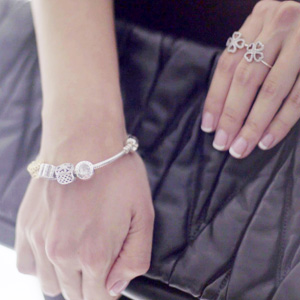 CELEBRATE LOVE WITH PANDORA VALENTINE'S DAY 2016 COLLECTION
"Love".
If I were to ask you to relate to the topic love, what would you recount? Is it the person you love dearly and your family that you treasure? Would it be the close friend who is so dear to your heart, or would it be the pet that you have had for the most of your life?
To many people, love can be made so complicated. Have you ever wonder it's actually us humans who are complicating things? Love can actually be so simple. Love is when you follow your heart and do the things you really want to do, and love the person you know you would want to spend your life with. As cliche as it may sound, love is boundless with no limits to age, gender and even race...
This Valentine's day, celebrate love with PANDORA Valentine's Collection 2016. Present to your loved one the most precious and thoughtful gift to the memorialise the times you and her have been together. Take this chance to present her her most adored gift - the PANDORA accessories.
I guess when it comes to PANDORA, many would relate back to their signature PANDORA Bracelet with individual charms. I felt that each charm can represents different occasions and mood, likewise reminds you of different important people in your life.
To me, I will never belittle a PANDORA charm because it can mean so much to someone.
Imagine receiving a PANDORA charm on different occasion and perhaps from different person (your bf, bff, best friend and even family members). The marvelous idea about PANDORA bracelet is that you are free to mix and match these charms and put them together so that you can carry so much thoughts and memories with you, in just one PANDORA bracelet...
The PANDORA bracelet that I'm wearing here is one of the precious collection in PANDORA's Collection 2016.Each piece of charm is crafted with sterling silver and 14k gold, to symbolize importance and true love between you and the wearer of this lovely jewelry.
If you notice, my favorite piece is actually the PANDORA's Love Locks dangle which is featured right in the middle of this bracelet. Another one worth a mention is the Pandora's Hearts of Gold charm, decorated with heart-shaped forms set with shimmering stones and cut-out hearts, making is such a stunner among the beauties.
Inspired by the Pandora's Hearts of Gold, this pair of earrings matches perfectly to the bracelet.
Because the jewelries are already such a stunner, I try not to dress to fanciful by avoiding prints and patterns, and only going for solid and nude colors. Since black is always the new gold, I decided to pair the jewelries with a simple black dress and nude heels. A little mash design around the collarbone area makes a simple black dress less dull at the same time.
As usual, I tuck one side of my hair behind my ears to reveal the gorgeous PANDORA dangling earring. You may also opt to tie up your hair to a smart low ponytail to reveal both sides.
To me, the accessories have to stand out, so I try not to pair it with loud colors like red or colorful theme.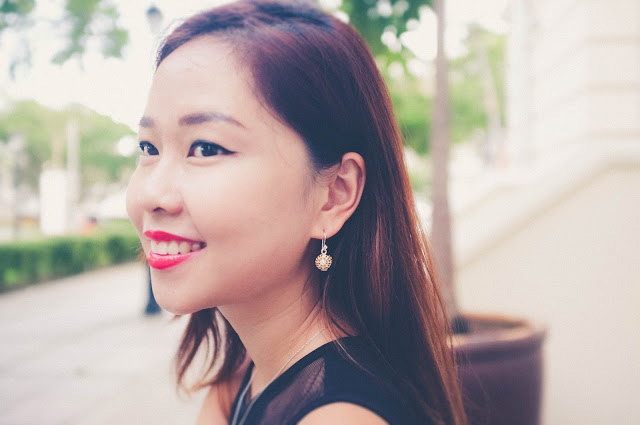 Don't you adore this dainty little necklace from PANDORA Valentine's Collection 2016?
It signifies two hearts linked together, just like how two persons in love would be... :')
PANDORA accessories are not just for the glamorous outfits and gowns. They can be paired with smart casual outfits to look both classy and chic too!
Since the PANDORA bracelet that I have is a combination of silver and gold, I decided to keep my outfit theme nude and neutral. And as usual, the bracelet that I have was not at all difficult to pair with. In fact, if you prefer more colors in your outfit, you can easily get some colorful charms from PANDORA, include in into an existing PANDORA bracelet and you're good to pair with various outfit themes.
Don't forget to pair this 14K gold series bracelet along with the similar earrings for a complete look.
Ask me what's one precious gift you could present to your loved one, I guess PANDORA Valentine's Collection 2016 wouldn't disappoint.
Be my Valentine - Reminiscence of an unforgettable moment by Pandora
One's journey in life is made up of many beautiful and unforgettable moments. And what a blessing it is when one can look back and savour those moments again with fondness.
I therefore counted myself blessed to be part of this collaboration with Pandora, where I was brought back to reminisce one such moment I had in San Francisco. It was supposed to be just another working trip to SFO, but with an unexpected appearance is SFO and a ring bought months ago, my husband turned an ordinary working trip into one of those unforgettable moments in life..
My surprise wedding proposal in SFO begun innocently when I was checking into the hotel in SFO like any other work trip. That was until I was completely baffled to see my then boyfriend standing at the hotel lobby. The first question that i threw at him was what was he doing in SFO. I also begun thinking about the exorbitant amount he must have paid to get to SFO and told myself that he better have a GOOD reason to be there. Little did I know that he had..!
Instead of answering my question, he started reminding me of our conversation the night before - about building dreams and fulfilling them together. Despite seeing my puzzled look as I was obviously still preoccupied with getting an answer from him, I was surprised that he continued sharing how much we have gone through for the past 12 years and how he has always known I was The One, and how it has always been his DREAM to One Day make me his wife..
By then, tears had already started welling up, full brimmed in my eyes. And through my blurred vision, I saw him went down on one knee and popped what seemed like a ring at my mascara-teary face..
Everything was a visual blur before me but one thing that will alwaysss remain vividly clear in my mind, was when it all happened.
That unforgettable moment of his declaration of love ... Will forever be embedded in my Heart.
Ps. Those who know ATT on a personal level, would know that a painfully shy and soft spoken person. As such, for him to muster
the courage to profess it all in public. I must've meant a lot to him... And yes. I know and appreciate that full well. .
Now whenever I see little things that reminds me of the surprise in San Francisco, or his effort to take a flight halfway round the globe to spring a heart attack surprise proposal on me, it always strikes a cord in my heart!
I love how every charm from Pandora can represent a significant moment in our lives. One can create expressions of love and seal your special moments by surprising your loved ones from the charming Valentine's Collection 2016. You can also find the perfect gift for that special someone by taking a simply quiz online to find out the best symbolic charm that best represents who she is!
I was mesmerized by the versatility of the charm collection that can be effortlessly styled to your creativity
Enhance the way you say 'I love you' this Valentine with beautiful gifts inspired by tender emotions from @Theofficialpandora
Perfect gift for dealing the special moment with that Special someone in your life. Www.pandora.net #clozette #pandora #pandoravalentinescollection
JEWELLERY FROM PANDORA
Celebrating this Valentine's with PANDORA. I received my first PANDORA bracelet for my 24th birthday and till today this bracelet he presented to me still bears so much memory and significance.
PANDORA VALENTINE'S COLLECTION 2016
To me, jewellery is a way of keeping memories alive. My fiancé would always gift me a charm from different parts of the world whenever he returns from overseas. More than a gift, it not only symbolises his love for me but his safe return and I think that's the most important thing right? Jewellery has the power to be this one little thing that can make you feel unique and even though I am not the only one who has a PANDORA accessory, I know mine is unique for the fact every charm is lovingly chosen by my other half. PANDORA Valentine's Collection 2016 offers sparkling jewellery that can be mixed and matched, combined and stacked or elegantly adorned alone to tell your very own unique story of love. That's the beauty of PANDORA.
Seen on me today are from the Lucky in Love Collection. This Petals of Love series is designed with four heart-shaped petals that join to create a single flower, the graphic and glittering series is inspired by the heart-shaped leaves of the violet, the birth flower of February and a universal symbol of the triumph of love. This new series unites symbols of love and delicate petals in a minimalist yet expressive declaration of love. Below, I will share with you how you can create three different looks (Resort Wear; Glamorous & Casual Wear) with the Collection.
RESORT WEAR
The PANDORA's Valentine's Collection 2016 is versatile, fresh, modern and elegant. Here, I have paired the collection with a Laced Baby Blue Resort Maxi. If you are looking for something simple yet outstanding to wear during your trips or holidays, you can look at PANDORA for some inspiration.
GLAMOROUS
PANDORA is the epitome of elegance. I selected these pieces to go with my evening wear as it enhances the beauty of the dress and my look. Their classic pieces and colour combinations make it easy to mix and match with anything, everything you wear.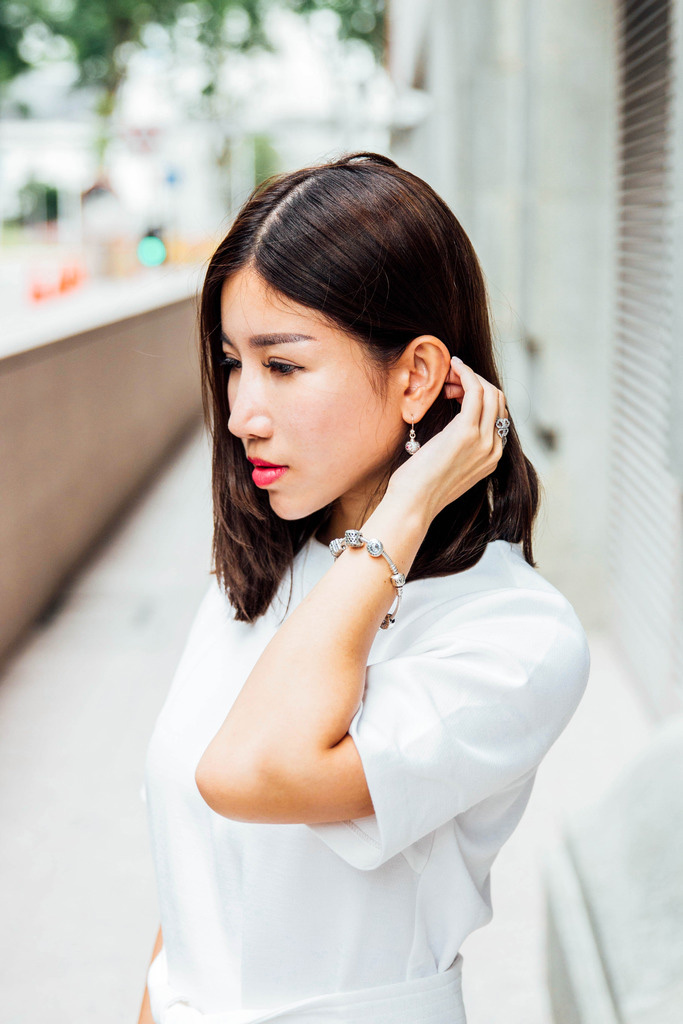 CASUAL WEAR
PANDORA fits perfectly with your schedule and daily activities. They can be worn day to day for a casual look. The neutral colour combination goes well with any colour and outfit type you choose. Here, you can see I have paired a white casual shift dress with the PANDORA collection.
Check out this video to hear our special moments we share with PANDORA.
Happy Valentine's Day!
Love,
Sydney