Clozetters Show
the Power of Pink to Support Breast Cancer Awareness.
Do your part now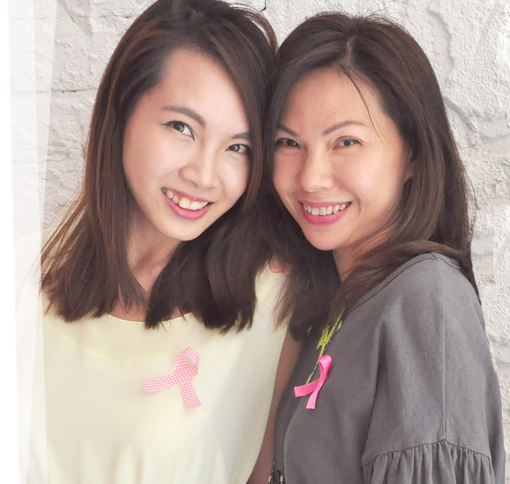 Clozette AMBASSADORS
Breast screening (mammograms) may help detect breast cancer before there are any signs or symptoms. The sooner breast cancer is diagnosed the more effective treatment may be.
Most cases of breast cancer happen by chance. Only around 5% of breast cancers are caused by inheriting the gene.
People have different warning signs for breast cancer. Some do not have any signs or symptoms at all.
Breast cancer is a disease in which malignant cells form in the tissues of the breast. The damaged cells can invade surrounding tissue, but with early detection and treatment, most people continue a normal life.
Warning sign of breast cancer: Any change in the size or the shape of the breast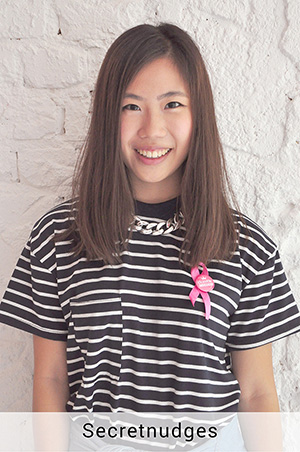 85% of all breast cancer diagnoses have no family history.
Follow Their Lead and Lend Your Support
Upload a photo of you and your friends with the Pink Ribbon. The more creative your photo is, the better! 
Tag three of your friends on Instagram. Hashtag your post with: #clozette #isupportbreastcancerawareness #pinkispower
Share it with your friends and don't forget to set your Instagram public!

Syarat & ketentuan
The PEDULI LEWAT SELFIE donation campaign ("Campaign") is open to all eligible participants as stipulated in clause (2) below. By submitting an entry to the Campaign, you are deemed to have agreed to be bound by these Terms and Conditions. Please read these terms and conditions carefully before you participate this Campaign. The Organiser reserves the right to amend the Terms and Conditions at any time without prior notice.
CAMPAIGN INFORMATION


This Campaign is organised by Clozette Pte Ltd ("Organiser").
The Campaign begins on 22 October 2014 and ends on 1 December 2014, 11.59pm, Indonesia Time (Campaign Period). The Organiser reserves the right to vary, extend or end the Campaign Period at its sole discretion, if it does not receive sufficient numbers of eligible entries or if the Campaign is not capable of being continued for whatever reason or other reasons pursuant to the Terms and Conditions of this Campaign.

 
ELIGIBILITY


This Campaign is open to all participants of age 18 and above (as at the date of participation in this Campaign). Employees, shareholders, officers, directors, agents, distributors and representatives of the Organiser and each of their respective parent companies, affiliates, divisions, subsidiaries, agents, representatives and advertising agencies are not eligible to participate in the Campaign.
The Organiser reserves the right to disqualify any Participant who does not comply with any of the Terms and Conditions of this Campaign or if the Organiser is of the view that the Participant does not meet any of the Organiser's participation criteria.

CAMPAIGN MECHANICS


Participants are to upload their Selfie Photos containing a pink item to Clozette Indonesia website (www.id.clozette.co). For each valid Selfie Photo relating to this Campaign that is uploaded to Clozette Indonesia website, the Organiser will donate IDR. 5000 to Love Pink Foundation, capped at a maximum total donation amount of IDR 30,000,000.
Participants may upload as many Campaign entries as they deem fit so long as each Campaign entry meets the criteria set out in clause (2) above.

 
RIGHTS OF THE ORGANISER


The Participant agrees that all materials submitted by the Participant for this Campaign belongs to the Organiser. Where applicable, the copyright and all intellectual property rights (including moral rights) subsisting in all materials including but not limited to digital or non-digital materials (eg: videos and images) belong to the Organiser.
The Organiser reserves the right to publish, use the names, photographs, images and/or videos submitted by the Participant or of the Participant for the purposes of advertising, marketing, and publicity, without any prior notice or compensation to the Participant. Participants shall not be entitled to claim ownership or other forms of compensation on the materials.
If for any reason this Campaign is not capable of running as planned due to any reason not limited to infection by computer virus, bugs, tampering, unauthorised intervention, fraud, technical failures, or any other causes beyond the control of the Organiser that corrupt or affect the administration, security, fairness, integrity, or proper conduct of this Campaign, the Organiser reserves the right, at its sole discretion, to disqualify any individual(s) who tamper with the entry process, and/or to cancel, terminate, modify, or suspend this Campaign. If the Organiser elects to cancel or terminate this Campaign, the Organiser will not retain any rights in the Entries.
The Organiser reserves the right, at its sole discretion, to remove and disqualify any Participant and/or entries found or suspected of cheating/hacking/tampering with the Campaign submission process, the operation of this Campaign or to be in violation of any Terms and Conditions of the Campaign. The Organiser reserves the right to pursue legal action against any individual whom it believes to have been involved in fraudulent activities or other activities harmful to the Campaign, the Organiser or the Campaign submission process.
The Organiser reserves the right to vary the Terms and Conditions of this Campaign at any time at its absolute discretion without prior notice.
In the event of any conflict between these Terms and Conditions and any terms contained in any promotional material for this Campaign, the terms contained herein shall prevail.

LIABILITY & RESPONSIBILITY


Unless stipulated otherwise, all transportation cost, internet charges, personal costs and/or any other costs, fees and/or any kind of expenses incurred by the Participants in connection with this Campaign (whether for the purpose of joining, participating in or receiving any benefit from the Campaign), the Organiser, its partners, advertisers, sponsors, affiliates, authorised agents or participating agencies accepts no responsibility whatsoever for these costs/charges/fees/expenses.
The Organiser, its partners, advertisers, sponsors, affiliates, authorised agents or participating agencies accepts no responsibility for entries lost, damaged, delayed in the post, or due to computer, IT or any technological error. The Participant is responsible for ensuring that his or her entry complies with all the terms and conditions of the Campaign, the rules of the Campaign and that his or her entry reaches the Organiser in the form required by the Organiser.
By entering this Campaign, all participants agree to release, discharge, and hold harmless the Organiser, its affiliates and agencies, and their employees, officers, directors and representatives from any claims, losses or damages arising out of or in connection with their participation in this Campaign (including but not limited to, any error in computing any transaction, any breakdown or malfunction in any computer system or equipment), any Campaign-related activities and the acceptance and/or use, misuse, or possession of any prize awarded hereunder. The Organiser reserves the right to alter or modify these Terms and Conditions at any time without notice.

GOVERNING LAW AND JURISDICTION


These Terms and Conditions shall be governed by Indonesia laws and the participants of the Campaign shall submit to the jurisdiction of Indonesia courts.
Availability of this Campaign in any country is subject to such Campaign not being unlawful or restricted under the laws of such country. Your ability to enter the Campaign does not constitute any offer by the Organiser to a party in a jurisdiction where the availability of the Campaign is unlawful or restricted.

PRIVACY NOTICE AND CONSENT


Your personal data, including without limitation the personal data obtained from you directly when you provide us with personal information, e.g. when you register for our Campaigns and/or roadshows, buy a product or service from us, sign up to receive information, use our applications, fill out a survey, or make a comment or enquiry, and/or any further updates provided to us by you in relation to your personal information ("Personal Data"), will be processed for the purpose of your participation in our Campaign and/or roadshow and/or events, to provide you with products or services that you request from us, to provide you with advance notice of our future events, to respond to your inquiries, to provide you information about our and our partners', sponsors' and advertisers' products, services and/or new releases which may be of interest to you, to invite you and your subscription to our newsletters, and/or for auditing purposes in cases where there has been a dispute, collectively "Purpose".
We also wish to inform you that your Personal Data may be disclosed to third parties, such as to our headquarters, regional offices, subsidiaries, affiliates and/or members within the Organiser's group of companies, and/or our service providers, advertisers, sponsors and partners which may be located outside of your country, for reasons relating to the Purpose.
If you wish to access, correct, limit or update your Personal Data, or to make any inquiries or complaints about the processing of such information, please contact us:
Clozette Pte Ltd

8 Burn Road
 #13-15
Trivex
 SINGAPORE 369977


Attention: Clozette Compliance Team

Email: [email protected]

Tel: +65 66368318

Fax: +65 66368313
Kindly note that it will be necessary for us to process your Personal Data, without which we will not be able to carry out the Purpose. For more details on how we process your Personal Data, do visit our Privacy Policy at //www.clozette.co/info/privacy.