We're well into the last month of the year, a time to reminisce over the year that has been and a time to take a deep breath in the thick of the holiday craze. Instead of fretting over it, we see it as a season of love, gift-giving and festivities. They say you can't give what you don't have, so before our turn to share, #TeamClozette embarked on a trip to Pacific Plaza to give ourselves some love as we soak in the festive cheer and recharge for a brand new year in the best possible way — a well-deserved beauty retreat.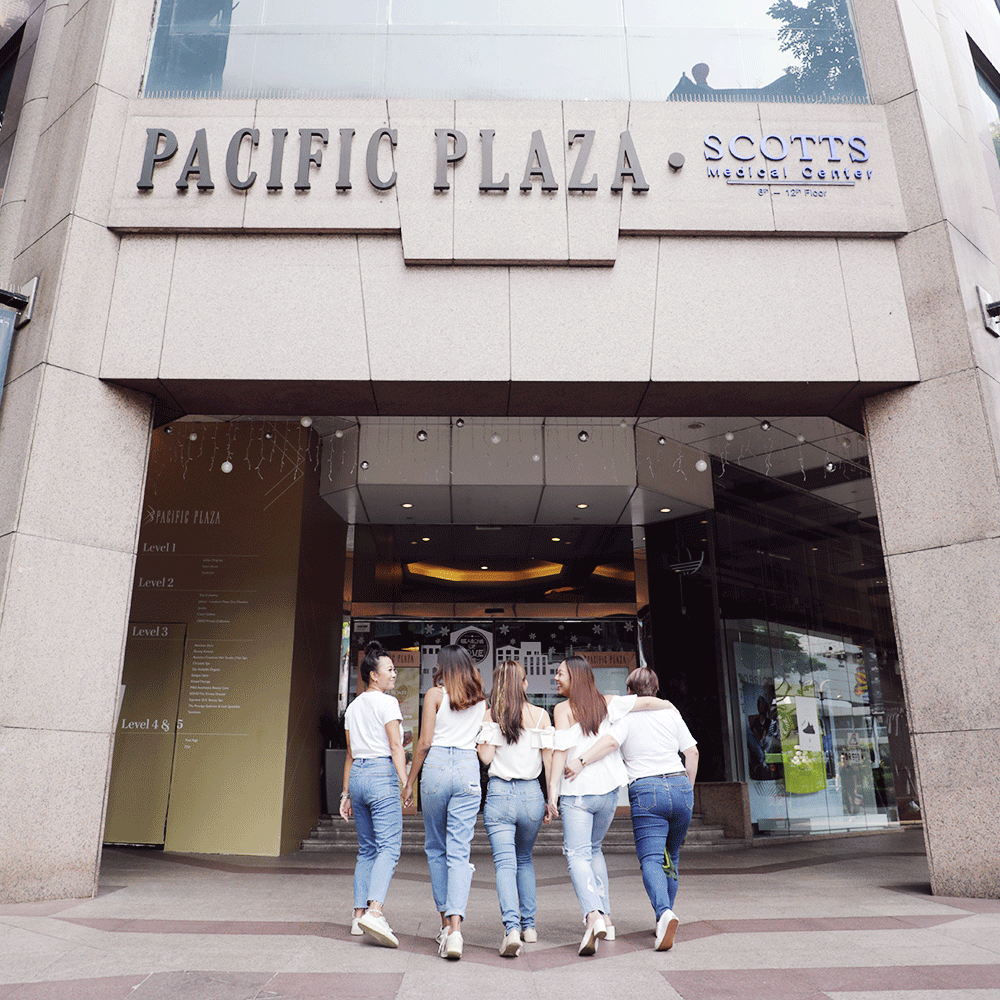 #TeamClozette stepping into Pacific Plaza
Situated in the convenient Orchard area, Pacific Plaza has just about everything to help you tick off your end-of-year beauty pampering list. And because it is the season of gifting, after all, these services make great presents for your loved ones too. But here's what's even better to sweeten the deal: festive promotions! From an uplifting organic facial to a restorative bedrock spa therapy, find out why Pacific Plaza is the place to be at for a pampering good time this December.
Go organic with Der Anthyllis Organic's Healthy Skin, Age Slow Facial
"I have dull-looking skin and was looking forward to a fresher, brighter complexion after my treatment," shared Creative Lead, Laura. "This all-organic facial treatment has a holistic and manual approach to it, and relies on a unique massage technique that targets the lymph nodes."
Using a unique massage technique to target the lymph nodes
"The entire process felt relaxing and I was asleep most of the time. The products, from German skincare brand Dr Hauschka, went on gently on my skin and smelled great with their soothing and calming effects. Amy, Der Anthyllis Organic's owner and beautician, definitely put a lot of thought into ensuring her customers get the best experience. The treatment room is cosy and inviting, and Amy was knowledgeable, patient and generous with her advice on skincare.
After the facial, everyone told me how good and glowy my skin became. I have come to realise that facial treatments have their benefits if you go to the right one, and Der Anthyllis Organic is really a place to go for your skin – especially after a hectic year!"
For first-time customers only, enjoy a Healthy Skin, Age Slow Facial at SGD99 (U.P. SGD220). Strictly by appointment only. You may call 9797 8559.
Up your brow power with Chrysalis Spa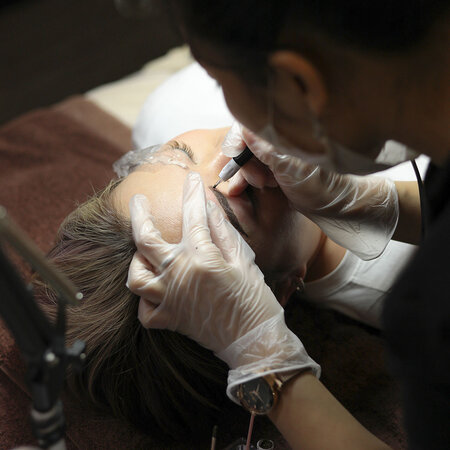 Eyebrow embroidery at work
"It's not my first time trying out eyebrow embroidery, but I was both nervous and excited at the same time as I was not familiar with current trends and technologies," Account Director, Jacp revealed. "After a consultation with my therapist, I was escorted to a simple yet spacious treatment room, where she started filling out my brows to show me how they would look after the session."
"The eyebrow shape she recommended was different from the brow shapes that I usually opt for. But hey, it's time to try something new to welcome a new decade, right? I was pleasantly surprised by how my brows turned out! My therapist was patient, gentle and I was honestly glad that I took the chance to take on a new brow look. New year, new brow, here I come!"

For first-time customers only, enjoy a Basic Eyebrow Embroidery with one free touch-up and free customised facial at SGD147.66 (after 7 per cent GST, U.P. SGD678.38). For bookings, you may call 6884 9636.
Embrace restoration with Yunohana's Hokulite Bedrock Spa Therapy
"When I first heard about the Hokutolite Bedrock Spa Therapy, I thought that it would be something like a hot stone massage and that it might be slightly painful," Campaign Executive, Zoel admitted. "Apparently, the effects of the treatment are equivalent to a 30KM jog!"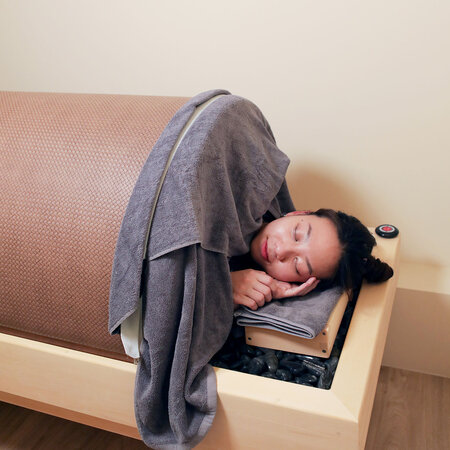 Sweating it out on a bed of Hokutolite stones
"The benefits of the therapy include boosting of the immunity system, detoxification of the body, slimming through reduction of water retention and body fats. In addition, you can expect anti-ageing and other beauty benefits from three energy elements: Hokutolite, Anion Stone and Far Infrared Stone used in the treatment process.
There are three phases in total, and I was asked to drink a glass of negatively ionised water, fresh lemon water, and extracted minerals from Tamagawa Onsen respectively after each phase. After the treatment, my skin felt softer and smoother and the tension in my body has also lessened. I felt so relaxed to the point where I wanted to sleep right after the treatment. True enough, I slept like a baby once I got home that day.
This makes the perfect end-of-year treat just based on the multiple positive effects it brings to my body — detoxification, slimming, beauty, anti-ageing and overall health."
Enjoy a first trial of the Hokutolite Bedrock Spa Therapy at SGD70 (U.P. SGD139), or enjoy a free therapy session for product purchases above SGD300. For bookings, you may reach them at 6262 5573.
Release tension with the Signature Bojin Massage at Supreme Q.X. Beauty Spa
"I was pleasantly surprised to find out more about Bojin and the potential issues in my body." Campaign Manager Dhivya shared. "It was a different experience from the regular massages that I've had. The use of a Bojin tool was really helpful in easing some of the soreness and tension — and it honestly felt amazing."
"The spa had a very calm and welcoming vibe. The all-white interior further added to the calming effect of the place. After the analysis, I was taken into another room to change and prepare for the massage. The therapist started massaging me with oil first before using a Bojin tool. She explained that Bojin is different from Guasha as it addresses the body's overall 'chi' and blood circulation.
(Left) A Bojin tool; (Right) Relieving tension with a massage using oils
I liked how the therapist routinely checked on whether I preferred a harder or softer pressure. At the end of the treatment, I felt relaxed and less tired. She helped to ease some of the soreness I was experiencing from regular exercising. I felt ready to take on the rest of the day. If you're looking to rejuvenate and relax, this treatment is it. The whole experience was soothing and calming — ideal for this festive season."
For female clients visiting for the first time, enjoy 1-for-1 30-minute Signature Bojin Massage at SGD49 with a free 60-minute Signature Meridian Harmony Massage worth SGD396. You may call 6736 1617 to book.
Glow up with the OxyDiamond Face Treatment at M&G Aesthetics Beauty Care
"I was excited to try out the OxyDiamond Face Treatment as I have really dry and uneven skin tone," said Campaign Manager Stephanie. "The colour of my neck is darker than my face, and I heard that this treatment could even out my skin tone. I felt instantly welcomed the moment I stepped into M&G Aesthetics. I was greeted by every staff who walked past me and honestly, I felt like royalty.
"It was my first time trying out this treatment and it is slightly different from the usual facials that I've tried. This treatment has three steps for hydrated, glowing and even skin tone. First, the OxyDiamond Peeling process where concentrated oxygen and diamond peel heads cleanses and stimulates the skin. Next is the Oxyjet or Pulsed Oxygen Pressure Injection, where oxygen is delivered to the skin's epidermis through high pulsed pressure. Lastly, the CryO2 a.k.a. Oxygen Lifting process. It's a refreshing treatment that offers a tingly coolness while oxygen and active ingredients are applied to help tighten the skin and reduce inflammation. It felt a little stinging at first but I got used to it shortly after. In essence, the treatment was comfortable and my therapist was so attentive and gentle with my skin.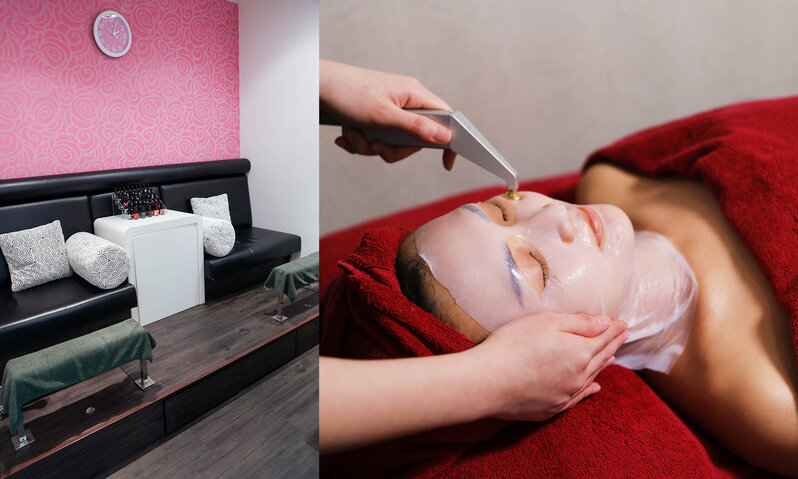 (Left) Manicure station at M&G Aesthetics Beauty Care; (Right) Experiencing a refreshing treatment
After the treatment, my face was glowing and felt hydrated. The uneven skin tone of my neck and face got brighter just after one treatment – unbelievable! I loved every single bit of the treatment and I only wished it lasted longer. After a stressful year, I felt I could wind down in those 90 minutes. I noticed that they offer manicure and pedicure services too. So… when is the next #TeamClozette beauty retreat?"
For first-time customers, enjoy an OxyDiamond Face Treatment at SGD168 (U.P. SGD308) and an Express Gel Manicure & Free Return Soak Off at SGD38 (U.P. SGD68). For bookings, you may call 6734 1651.
Go on a beauty retreat this festive season at Pacific Plaza. Pacific Plaza is located at 9 Scotts Road, Singapore 228210.

After enjoying a pampering session at Pacific Plaza, don't forget to redeem a free tall-sized Starbucks Christmas beverage with a minimum SGD150 spend. Enjoy this sweet deal till 29 December.
P.S. Tell them Clozette sent you when you visit.