Smooth and soft to the touch — that's how you'd describe Japanese mochi. But did you know you can use those same words to describe your skin? No kidding! It's called mochi-mochi skin. Read on to find out if it should be your new skin goal.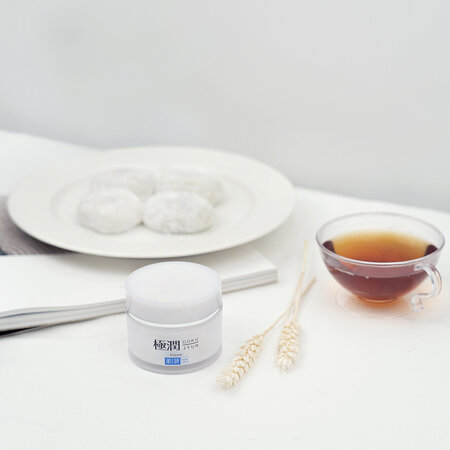 What is mochi-mochi skin?
First, what is it? Think hydrated skin that's so healthy, it looks and feels bouncy — as in mochi-mochi. Unlike glass skin, where there's a dewy appearance from the layering of products, this skin trend has a more subdued look. But that doesn't mean it's not as good for you. This one actually focuses on what's happening not just on the surface, but more so on the skin's inner layers.
How do you achieve it?
The most important thing to note? Your skin's hydration level. Itchiness, dullness and fine lines are just some of the signs of dehydration. But even if you're not experiencing any of these issues, your skin might already be dehydrated — and that's the opposite of what you want to achieve. Address this with, of course, hydration. But don't stop there — your skin also needs nourishment too.
The ​Hada Labo Hydrating Cream​ offers both. It hydrates with the help of four types of hyaluronic acid in its formula. They're a combination of large-sized, medium-sized, Super and Nano hyaluronic acid that ensures hydration is locked in and replenished deep into the skin, layer by layer. It also nourishes through a high concentration of antioxidant-rich Rice Bran Oil that strengthens the skin's natural barrier, making it firm, dense and smooth. It has Peony Flower Essence and 12 botanical oils that make the skin soft and relive it from dryness, too. A caring combo for mochi-mochi skin? We'll take it.
Achieve the mochi-mochi skin goal with Hada Labo Hydrating Cream. Get it here.